Whenever there's a task to be done, there's always someone to come along and offer discouragement or diversion or to throw cold water on the idea. Jesus knew what His mission was. Destination: Jerusalem!
Luke 13: 31 At that time some Pharisees came to Jesus and said to him, "Leave this place and go somewhere else. Herod wants to kill you."
Sometimes, Jesus thought, people have no idea how close they are to the mark. Just a little off because it's not Herod. To Herod, I'll be a curiosity. It'll be the Pharisees and the high priest who want Me dead. Crucified, in fact. Jesus knew His mission and what lay ahead. Nothing, not even this discouragement and diversion by Pharisees would keep Him from reaching His goal.
Luke 13:32 He replied, "Go tell that fox, 'I will keep on driving out demons and healing people today and tomorrow, and on the third day I will reach My goal.' 33 In any case, I must press on today and tomorrow and the next day– for surely no prophet can die outside Jerusalem!
The Pharisees looked at each other.  "Prophet?  Die outside Jerusalem?  We are trying to keep Jesus outside of Jerusalem.  Go away and don't come back," they thought.  "Death is a bit extreme.  We just want Him out of here, away from the people, no more healings especially on the Sabbath, no more driving out demons to get attention from the crowds, no more teachings about hypocrisy, making us look bad, and all that.  Just who does this guy think He is?"
Jesus looked at them with that "knowing look" for which He was becoming famous. They resented Him and He knew it. It made Him sad to know they'd reject Him over and again before He'd be crucified. He'd prefer repentance to continued rejection, but then again, His mission relied upon rejection.
Luke 13:34 "Jerusalem, Jerusalem, you who kill the prophets and stone those sent to you, how often I have longed to gather your children together, as a hen gathers her chicks under her wings, and you were not willing. 35 Look, your house is left to you desolate. I tell you, you will not see me again until you say, 'Blessed is he who comes in the name of the Lord.' "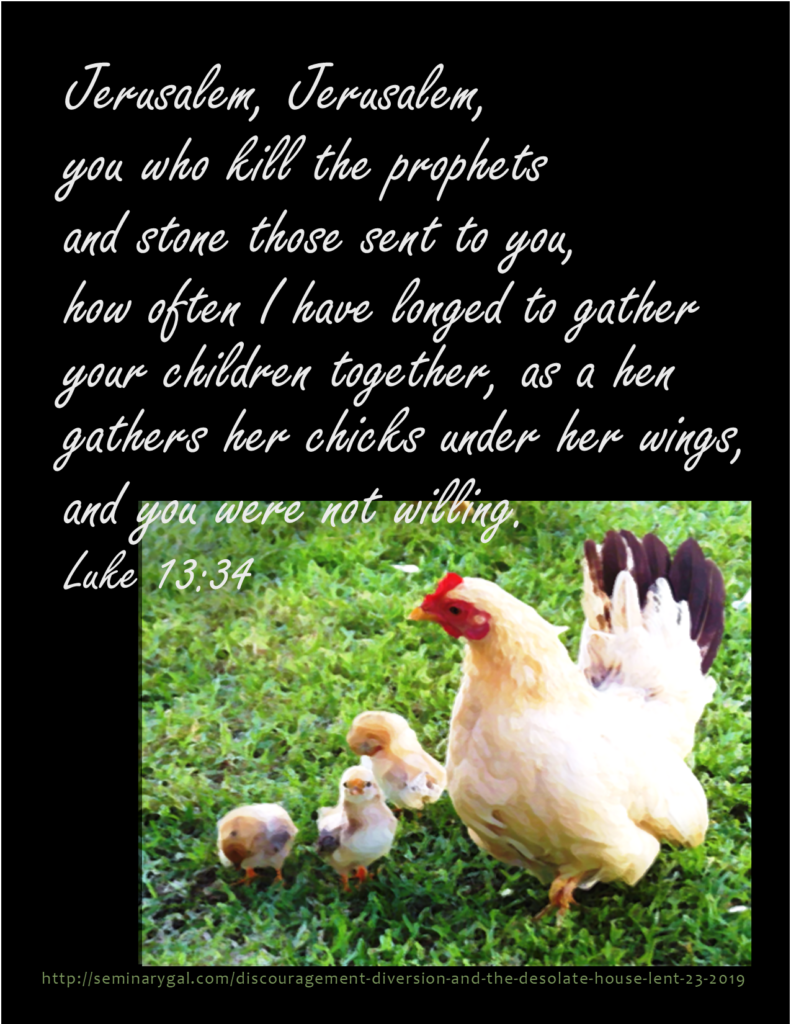 Think about it:
The Pharisees obviously thought that the prospect of death would be enough to scare Jesus away. Why was that ironic?
When Jesus said on the third day I will reach My goal, did He mean it was 3 days into the future or was today, tomorrow and the third day more figurative?
How do you think the Pharisees felt about Jerusalem being desolate and Jesus' talk about their killing prophets and stoning those sent?
How do you think they reacted when Jesus said "I tell you, you will not see me again until you say, 'Blessed is he who comes in the name of the Lord'" with such authority?
Lord Jesus, thank You for persevering and faithfully completing the mission Your Father sent You to do. Thank You for loving us that much! We praise You, Lord, for Your goodness and mercy, Your grace and love, and for never leaving us nor forsaking us. We repent of the ample reasons we've given You to abandon us and confess with gratitude our need for Your healing touch, Your forgiveness, and Your presence in our lives. Teach us to abide in You and seek You while You may be found. Amen.
If you're already signed up on my Home Page sidebar to receive posts, you'll get the 2019 Lent Devotionals automatically. Or you can "Like" Seminary Gal on Facebook and they'll be delivered to your Facebook news feed. If you haven't signed up, today is a great day to do so. Advent and Lenten devotionals remain among my most popular offerings. You don't want to miss this great look at the Easter story to prepare your heart for Easter! Understanding that prior years' devotionals remain popular,