On Easter morning, we call out "He is Risen! He is Risen Indeed!" But what does it mean to rise, to be Resurrected? Is a Resurrection really all that different from being resuscitated, reincarnated, revived, or recovered? You bet it is!
It's been a week since Easter. Is your life any different? Or nothing more significant than resuming what you gave up for Lent? When Christians truly understand What It Means to Be Resurrected their post-Easter life can, and ought to be, dramatically different.
How, you ask?
Well, the Bible has some clear instruction about that topic in 1 Corinthians 15 which we will explore in detail over the coming days.
Merriam-Webster offers this definition of resurrection
1

a capitalized: the rising of Christ from the dead
b often capitalized: the rising again to life of all the human dead before the final judgment
c: the state of one risen from the dead

2
In the Christian understanding, Resurrection explicitly refers to one's specific physical life again after that same person's physical death. It's why Jesus' Resurrection had to involve His body. His body died. His dead body was entombed. His dead body was given new life. He rose and it was always His identity and His body, now glorified.
For those who want to believe it's the same as resuscitated, reincarnated, revived, or recovered, let's distinguish Resurrection from those.
Resuscitated, revived, and recovered are about something or someone that wasn't truly dead for 3 days because their life spirit was still present somehow to return to the same old body of flesh. Therefore it implies more of a rescue from the brink, the precipice, and like Lazarus (John 11:1-44), it wasn't the amount of time he'd been entombed, it was the depth of death to which he descended.
More on this later, but for now, let's just acknowledge that when Elisha (2 Kings 4:8-36), the earthly Jesus (Mark 5:21-43), Peter (Acts 9:36-42), or Paul (Acts 20:7-12) "raised" someone from the dead, it was more like being revived or a resuscitation since all those raised would face death someday when each must face judgment (Hebrews 9:27-28)

.

Jesus' being raised from the dead was wholly different on a cosmic scale.

And finally, reincarnation implies more of an embodiment, a new body for the old soul, not the old dead body. The belief in reincarnation doesn't even need to involve a new human body, it's just a new body for one's soul to inhabit as it improves.
B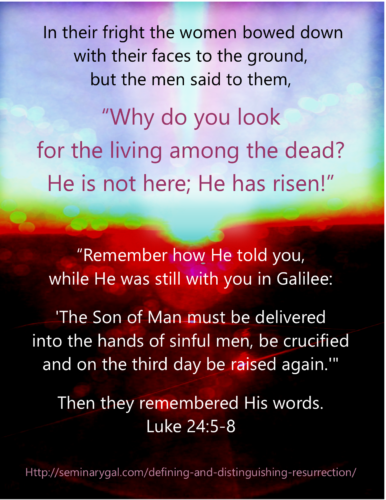 ut with the Resurrection of Jesus and for us someday, we will be the same old identity and soul "born-again" in the old body somehow changed after death. We'll get into this deeper as our series unfolds. But for now, let's marvel at what the angels ("the men") said to the women at the tomb:
Luke 24:5 In their fright the women bowed down with their faces to the ground, but the men said to them,
Why do you look for the living among the dead?
6 He is not here; he has risen! Remember how he told you, while he was still with you in Galilee: 7 'The Son of Man must be delivered into the hands of sinful men, be crucified and on the third day be raised again.'" 8 Then they remembered his words.
This series on 1 Corinthians 15 entitled What It Means to Be Resurrected can be read fully from the archives beginning April 2017.