Some excuses are good excuses. Some excuses are bad excuses. In the end, all excuses are really just excuses.
Jesus knew He had come to the Jewish people… to deliver them! To invite them into a saving relationship with Him! To know the good news of salvation that the Father had sent Him to tell. The Jews had been invited long ago. The Father said, "I will bring forth descendants from Jacob, and from Judah those who will possess my mountains; my chosen people will inherit them, and there will my servants live" (Isaiah. 65:9). This was the invitation issued, but the Jews of this day would reject Him, just as Scripture foretold.
Jesus looked directly at the man who had blurted out "Blessed is the one who will eat at the feast in the kingdom of God" (Luke 14:15). His heart discerned something amiss. While those who will eat at the feast would be among the blessed, just because the invitation had been issued didn't mean it would be or had been accepted by each one individually. Some will rely upon their national identity, educational level, observance of the Law, or heredity for the invitation, not appreciating that it comes with a required, personal RSVP. It's not a group project, but an individual invitation.
Sad to say, some people rely upon identity markers of this group or that, or performance metrics. People rely on all kinds of externals. Worse, some will always find an excuse to reject the very thing they need. It was time to clarify things.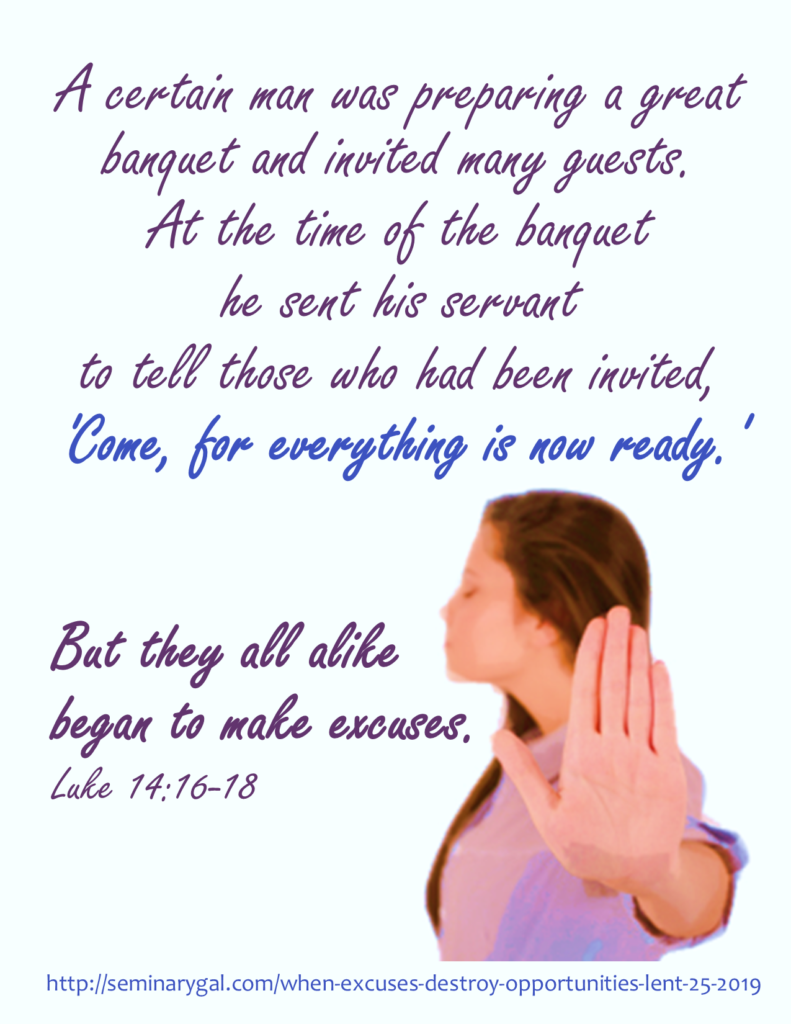 Luke 14:16 Jesus replied: "A certain man was preparing a great banquet and invited many guests. 17 At the time of the banquet he sent his servant to tell those who had been invited, 'Come, for everything is now ready.' 18 "But they all alike began to make excuses. The first said, 'I have just bought a field, and I must go and see it. Please excuse me.' 19 "Another said, 'I have just bought five yoke of oxen, and I'm on my way to try them out. Please excuse me.' 20 "Still another said, 'I just got married, so I can't come.' 21 "The servant came back and reported this to his master. Then the owner of the house became angry and ordered his servant, 'Go out quickly into the streets and alleys of the town and bring in the poor, the crippled, the blind and the lame.' 22 "'Sir,' the servant said, 'what you ordered has been done, but there is still room.' 23 "Then the master told his servant, 'Go out to the roads and country lanes and compel them to come in, so that my house will be full. 24 I tell you, not one of those who were invited will get a taste of my banquet.'"
Jesus looked at the man who'd counted on being at the feast in the Kingdom of God by virtue of his heritage. The man and those near him simply looked at each other, blindly failing to grasp that what they felt was a given instead required a response and not just an excuse for why they had better things to do.
Think about it:
What types of externals do we substitute for faith?
In the end, what distinguishes an excuse from a statement like "I don't want to" or "I don't feel like it" or "Go away and leave me alone"?
Read Romans 11 and ask why it was to the Gentiles' benefit that those invited would reject the invitation initially?
In the parable, who would the Gentiles be like?
Thank You, Father, that in Your wisdom, there was a plan for the Gentiles to be grafted into Your Kingdom!  We praise You for Your wisdom and grace!  Thank You for encouragement from Your Word that says "For God so loved the world that He gave His one and only Son, that whoever believes in Him shall not perish but have eternal life.   For God did not send His Son into the world to condemn the world, but to save the world through Him (John 3:16-17).  Thank You, Jesus, that You died for Gentiles as well as Jews and we can all take our seats at the great banquet in heaven—not because of what we've done but by faith in what You did!  We praise You and thank You!  Amen.
If you're already signed up on my Home Page sidebar to receive posts, you'll get the 2019 Lent Devotionals automatically. Or you can "Like" Seminary Gal on Facebook and they'll be delivered to your Facebook news feed. If you haven't signed up, today is a great day to do so. Advent and Lenten devotionals remain among my most popular offerings. You don't want to miss this great look at the Easter story to prepare your heart for Easter! Understanding that prior years' devotionals remain popular,