All in a day's work, Jesus thought as Luke 11:14 "He was driving out a demon that was mute. When the demon left, the man who had been mute spoke, and the crowd was amazed."
Crowds can be easily amazed, but their hearts are not so easily changed, Jesus noted. This isn't just a bunch of magic tricks as a sideshow crafted to astonish. There is something far more important at stake. The healings aren't being done to impress the crowds or even really, for the healing itself…but for what they point to: Deliverance! Jesus surveyed the crowd, resisting a temptation to roll His eyes or sigh as,
Luke 11:15 Some of them said, "By Beelzebul, the prince of demons, he is driving out demons." 16 Others tested him by asking for a sign from heaven.
Jesus choked back indignation at the insult. Oh, if only they knew! Crowds! They can get it so wrong! Crowd behavior is something about which He knew, but He simply could not understand. Only a sinner could understand such things by experience. Indeed, it angered Him with the kind of righteous anger that only the Son of God could feel.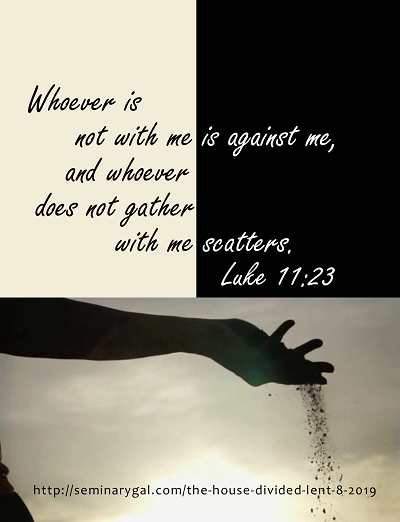 Luke 11:17 Jesus knew their thoughts and said to them: "Any kingdom divided against itself will be ruined, and a house divided against itself will fall. 18 If Satan is divided against himself, how can his kingdom stand? I say this because you claim that I drive out demons by Beelzebul. 19 Now if I drive out demons by Beelzebul, by whom do your followers drive them out? So then, they will be your judges. 20 But if I drive out demons by the finger of God, then the kingdom of God has come upon you.
It needed to be said. The logic pointed clearly to their rebellion. Their denial. Their rejection of Him, of His Father, and of His mission to save them. Yes, it was only going to get worse, but those who sow division needed to know they'll only reap disaster. Don't they get it?
Jesus' eyes pierced through the darkness of their thoughts as He inspected the crowd all the way to each person's core of innermost thoughts. He was sad and stated bluntly,
Whoever is not with me is against me, and whoever does not gather with me scatters." (Luke 11:23)
He watched as each person's face betrayed what was in each person's mind and heart. He didn't need to see it. He already knew.
Think about it:
Have you ever been troubled by the two versions: Luke 11: 23 "Whoever is not with me is against me," and Mark 9:40 "For whoever is not against us is for us?" How do you reconcile the two?
Is there a distinction between an individual's negative reaction to Jesus as the "sent One" (i.e. rejection) versus serving His purposes but for wrong and self-serving reasons?
Would those whose hearts harbored rejection of Jesus (through jealousy or stubborn rebellion, etc.) have known their thoughts would reap consequences of kindling wider rejection and plotting to divide and scatter?
Thank You, Father, that unity among believers attests to Your Son as the Sent One. We pray, Lord Jesus, that Your Church would be of the same mind, united in love and fidelity to You and the truth contained in Your Word, as You have taught us. Holy Spirit, please quicken our hearts to the areas we've strayed, and correct us with Your holy discipline. May we no longer be divided over the earthly and the superficial. Rather may we all be turned from darkness to light, from our evil ways and evil desires to crave the holiness and righteousness that You, Lord Jesus, died to give us.
= = =
If you're already signed up on my Home Page sidebar to receive posts, you'll get the 2019 Lent Devotionals automatically. Or you can "Like" Seminary Gal on Facebook and they'll be delivered to your Facebook news feed. If you haven't signed up, today is a great day to do so. Advent and Lenten devotionals remain among my most popular offerings. You don't want to miss this great look at the Easter story to prepare your heart for Easter! Understanding that prior years' devotionals remain popular,