The Apostle Paul had an amazing past.  He talks about all his qualifications in Philippians 3:5-6 and 2 Corinthians 11:22-12:10.  What's even more amazing is that he considers it all a loss and displays the humility of a man—but for God's redemption of his past—who would have had no future to boast about.  Let this sink in during Lent 2021.
Hell is every man's destination but for Jesus Christ. 
And hell brings no bragging rights.
Paul, for all of his qualifications, learned that those were only useful when redeemed for Christ as fuel for a great testimony. To Paul, everything was for evangelism, for the Gospel, for the sake of Christ.
He tells his story repeatedly.  One of my favorites is Acts 26:10-19 when he's testifying before King Agrippa and Festus.  It's one of my favorites because God presses irony in the face of the world.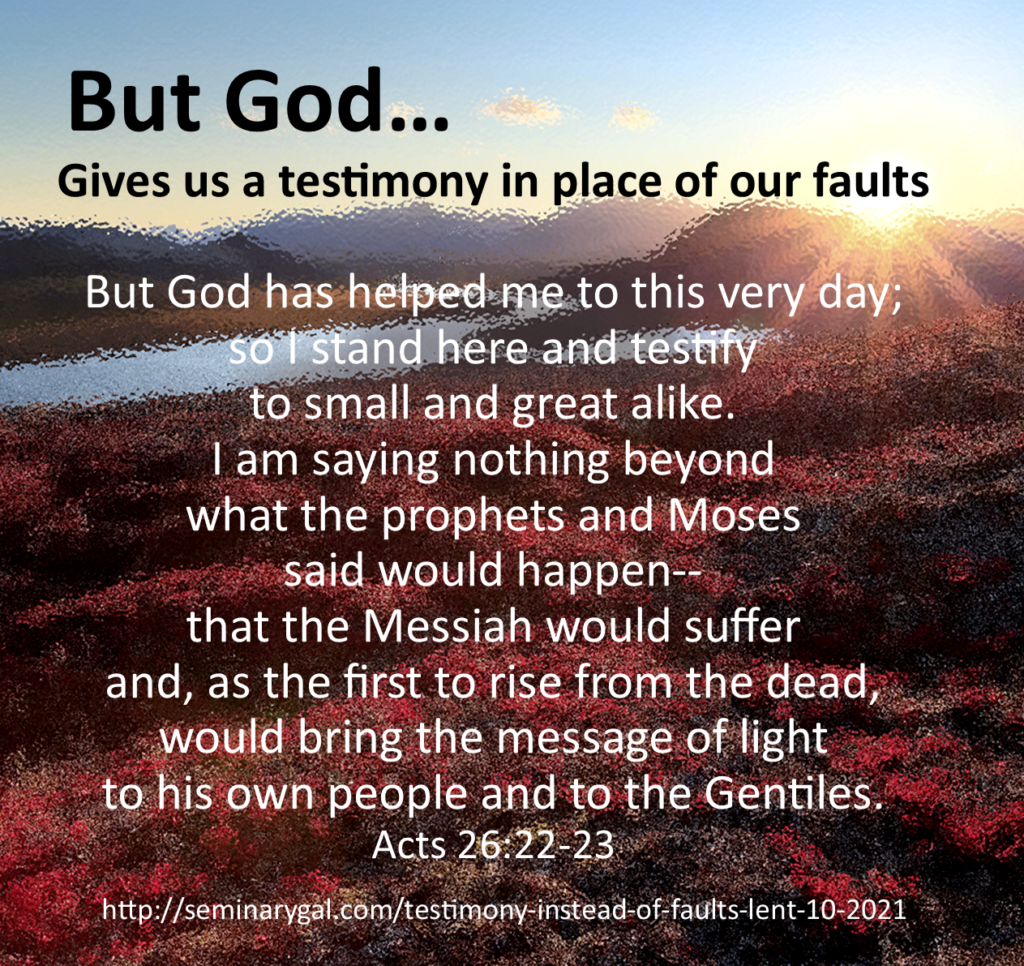 Acts 26:19 "So then, King Agrippa, I was not disobedient to the vision from heaven.  20 First to those in Damascus, then to those in Jerusalem and in all Judea, and then to the Gentiles, I preached that they should repent and turn to God and demonstrate their repentance by their deeds.  21 That is why some Jews seized me in the temple courts and tried to kill me.  22 But God has helped me to this very day; so I stand here and testify to small and great alike. I am saying nothing beyond what the prophets and Moses said would happen– 23 that the Messiah would suffer and, as the first to rise from the dead, would bring the message of light to his own people and to the Gentiles."
Ironically neither Festus nor Agrippa believed his testimony at the time (vs 24-31)
but as they leave the room, they say two of the
world's most ironic and wrong statements of God and government. 
"This man is not doing anything that deserves death or imprisonment." Agrippa said to Festus, "This man could have been set free if he had not appealed to Caesar." (Acts 26:31-32).
Weren't they listening?  We all deserve death as a consequence of sin.  We cannot be truly set free by Caesar or any other government official.  Only Jesus can do that.  Only Jesus can redeem our past, pay for what we deserved, and set us free indeed for a future worth bragging about, and worth telling others about.
Lord Jesus, sometimes we are amazed at the words of Scripture because of the irony that is present in what we say among men.  We thank You and praise You that You redeem our past, that You use our flaws, our faults, even the things we've done that have grieved You, and by redeeming us, You put these things to work in our lives.  It is our humanity in need of rescue that gives us a testimony to Your great goodness, to Your grace, and Your mercy.  How we praise You, Father, for the forgiveness that comes by the shed blood of Your Son Jesus.  Oh, Father, during this season of Lent may we be mindful that it is human sin that compelled Jesus to the cross out of love for You and only by His shed blood can we hope to know eternal life.  To You be the glory, Lord, now and through the ages. Amen.
===
If you're already signed up on my Home Page sidebar to receive posts, you'll get the 2021 Lent Devotionals automatically. Or you can "Like" Seminary Gal on Facebook and they'll be delivered to your Facebook news feed. If you haven't signed up, today is a great day to do so. Advent and Lenten devotionals remain among my most popular offerings. You don't want to miss this encounter with God to prepare your heart for Easter! Understanding that prior years' devotionals continue to minister, you may want to have access to a full series ahead of time: