Just a reminder about the Seminary Gal series for 2017 Lent Devotionals. It's called Light: There's Nothing Like It. Have you ever stopped to ponder how amazing light is? Even considering everything in the universe, there's nothing like it. Light is in a category all by itself.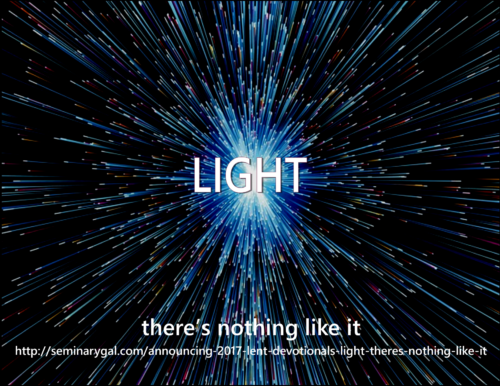 From the beginning of creation, even a scientist's Big Bang, researchers can study and identify the unique properties of light but no one has ever fully probed the wonder of it all.
From God's first words of creation, "Let there be light" in Genesis 1 to the final Revelation in which the Lord God Himself will give us light, the Bible has much to say about it.
During the 40 days of Lent 2017, we'll take an in-depth look at light and we'll learn together what the Bible has to say about this beautiful creation and metaphor.
Lent 2017 begins March 1st, Ash Wednesday, If you're already signed up on my Home Page sidebar to receive posts, you'll get the 2017 Lent Devotionals automatically. Or you can "Like" Seminary Gal on Facebook and they'll be delivered to your Facebook news feed. If you haven't signed up, today is a great day to do so. Advent and Lenten devotionals remain among my most popular offerings. You don't want to miss this great way to learn about light to prepare your heart for Easter!
Come join me in the Light. There's absolutely nothing like it!
===
Acknowledging that former years' devotional series remain popular: