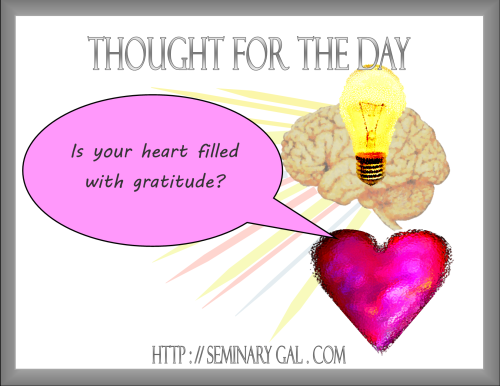 When life is a struggle, the quickest and best cure is rekindled gratitude. 
How is that possible, you ask?
1 Thessalonians 5:16 Be joyful always; 17 pray continually; 18 give thanks in all circumstances, for this is God's will for you in Christ Jesus. 19 Do not put out the Spirit's fire; 20 do not treat prophecies with contempt. 21 Test everything. Hold on to the good. 22 Avoid every kind of evil.
Give thanks in all circumstances.
Not just good ones. Not just comfortable ones. Not just happy ones.
All circumstances.
Does anyone besides me find that really hard to do?
I have bad days. Probably more bad ones than good if I stop to think about. Probably not as bad as other people's if I stop to think about it some more. In fact, I know that some people would trade everything to be in my shoes and it's only my inherent selfish first-world-attitudes that view my life as anything but wonderful.
So why do I find it so hard to give thanks?  What about gratitude is so hard?
I am guessing it has something to do with rebellion against God. Resenting that this is the best He has for me. Comparisons I'm making between my life and someone else's and their grass being significantly greener. So, why not me?
Today's passage is a good reminder that God's will is…God's…will and every day I do His will is better than any day I don't. Bloom where you're planted as I just spoke about at the Lenten retreat over last weekend. Rekindle that gratitude. If I hold onto what is good and avoid every kind of evil…if I am content in God's hands because that's the best and safest place to be, I will find it easier to show the very thing that is God's will: being joyful, prayerful, and yes….grateful.
Give it up for Lent: Any comparisons that lead us to ingratitude.
Questions regarding 1 Thessalonians 5:16-22.
What items are we supposed to do? What 3 items are we not supposed to do?
What types of things put out the Spirit's fire?
What does it mean to treat prophecies with contempt?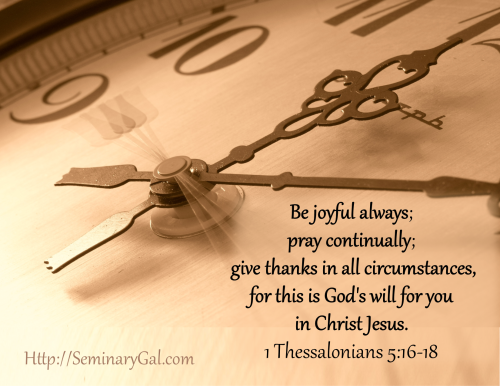 ReKindle is the 2016 Lenten devotional series from Seminary Gal.
To receive these devotionals to your email inbox throughout Lent, please fill in your email address in the space provided on my Home Page in the sidebar (right) and respond to the verification email.  If you already receive devotionals and articles, no need to do anything else.  You'll get them automatically.  Thank you!  Or log onto the SeminaryGal Facebook page and see them reprinted there.
Acknowledging that former years' devotional series remain popular, Be Still and Know that I AM God can be obtained through the archives beginning in March 2014 and With Christ in the Upper Room  is archived beginning February 18, 2015.