Colossians 3:15 Let the peace of Christ rule in your hearts, since as members of one body you were called to peace. And be thankful. 16 Let the word of Christ dwell in you richly as you teach and admonish one another with all wisdom, and as you sing psalms, hymns and spiritual songs with gratitude in your hearts to God. 17 And whatever you do, whether in word or deed, do it all in the name of the Lord Jesus, giving thanks to God the Father through him.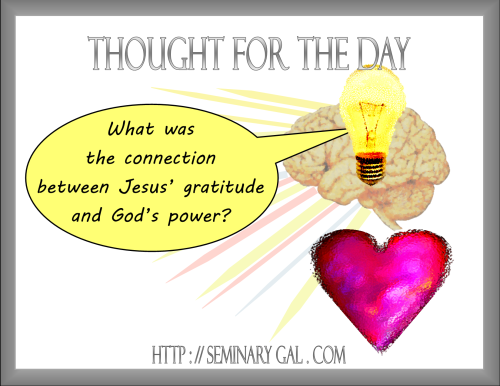 Have you ever noticed that Jesus gave thanks to the Father a lot? At the Last Supper, when multiplying the loaves and fishes, outside of Lazarus' tomb (John 11), etc. Oh, it's not always the words "thank you" but it's always the meaning.
Jesus' heart was one in which gratitude made its home. Gratitude didn't get banished to the back porch or storm cellar Monday through Saturday as it often does for us. We show up on Sunday and thank the Lord. Monday through Saturday, how many of us show up pretty thankless except for maybe a tiny prayer here or there?
How do we rekindle gratitude?
Here are some ideas:
See the world through the eyes of a child. Everything small and curious, wonderful and fun, tasty and sure to make you smile … is a gift. Children are dependent upon the giver and every gift is a new discovery. What about you? Upon whom do you depend?
See your sufferings through the eyes of God. Even hardships are bringing you closer to His heart and conforming you to the likeness of Christ.
See gratitude as a key for God to unleash His power to do the miraculous. If we remain ungrateful for everyday miracles, why should God do the spectacular on our behalf?
Give it up for Lent: Sunday-only gratitude
Questions for Colossians 3:15-17
How are peace with God and gratitude connected?
How are you and I connected in this passage? How does it change your perspective to know that the word "you" is plural (all of you)?
How do we give thanks to the Father through Jesus?
ReKindle is the 2016 Lenten devotional series from Seminary Gal.
To receive these devotionals to your email inbox throughout Lent, please fill in your email address in the space provided on my Home Page in the sidebar (right) and respond to the verification email.  If you already receive devotionals and articles, no need to do anything else.  You'll get them automatically.  Thank you!  Or log onto the SeminaryGal Facebook page and see them reprinted there.
Acknowledging that former years' devotional series remain popular, Be Still and Know that I AM God can be obtained through the archives beginning in March 2014 and With Christ in the Upper Room  is archived beginning February 18, 2015.