Kindness—brotherly kindness—is the link of a chain of virtues onto which the greatest virtue, love, naturally hangs.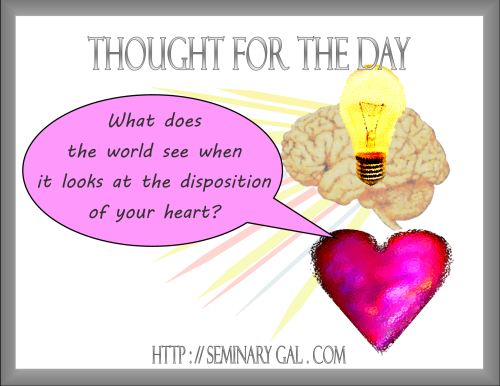 Take a moment to picture a chandelier hanging from the ceiling by a chain. Foundational to the lights of the chandelier working is the electrical plate plugged into the ceiling. That's like faith in Christ. It's His divine power which is the light of the world. The power travels down the cord and sure, the world may observe a Christian's goodness, knowledge, self-control, perseverance and even godliness, but where it first touches the world–the electrical connection inside the light–is our brotherly kindness, a visible expression of love for our neighbor.
2 Peter 1: 3 [Jesus'] divine power has given us everything we need for life and godliness through our knowledge of him who called us by his own glory and goodness. 4 Through these he has given us his very great and precious promises, so that through them you may participate in the divine nature and escape the corruption in the world caused by evil desires. 5 For this very reason, make every effort to add to your faith goodness; and to goodness, knowledge; 6 and to knowledge, self-control; and to self-control, perseverance; and to perseverance, godliness; 7 and to godliness, brotherly kindness; and to brotherly kindness, love. 8 For if you possess these qualities in increasing measure, they will keep you from being ineffective and unproductive in your knowledge of our Lord Jesus Christ. 9 But if anyone does not have them, he is nearsighted and blind, and has forgotten that he has been cleansed from his past sins. 10 Therefore, my brothers, be all the more eager to make your calling and election sure. For if you do these things, you will never fall, 11 and you will receive a rich welcome into the eternal kingdom of our Lord and Savior Jesus Christ.
Maybe you're heard the old saying that people don't care how much you know until they know how much you care.
Do you want to be a light for Christ? Show a little kindness.
Give it up for Lent: unproductive Christianity that is selfish at its core.
Questions for 2 Peter 1:3-11.
Where does the power to live as godly people come from?
What does it mean to participate in the divine nature and escape the corruption in the world?
Why do you think Peter begins with faith and ends with love?
What does he mean when he says to make your calling and election sure?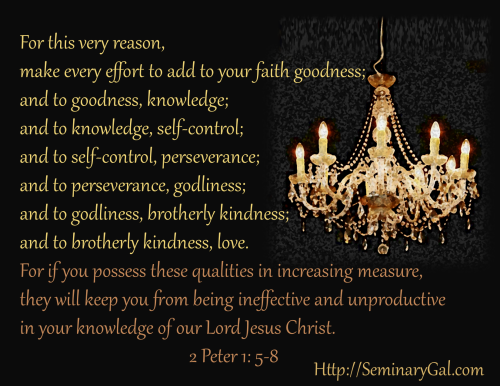 ReKindle is the 2016 Lenten devotional series from Seminary Gal.
To receive these devotionals to your email inbox throughout Lent, please fill in your email address in the space provided on my Home Page in the sidebar (right) and respond to the verification email.  If you already receive devotionals and articles, no need to do anything else.  You'll get them automatically.  Thank you!  Or log onto the SeminaryGal Facebook page and see them reprinted there.
Acknowledging that former years' devotional series remain popular, Be Still and Know that I AM God can be obtained through the archives beginning in March 2014 and With Christ in the Upper Room  is archived beginning February 18, 2015.