The third letter of the Hebrew alphabet as we look at the acrostic Psalm 119 is Gimel.  It provides the background for the third lesson from the dog park: Open My Eyes to Blind Judgment.
Psalm 119:17 Do good to your servant, and I will live; I will obey your word. 18 Open my eyes that I may see wonderful things in your law. 19 I am a stranger on earth; do not hide your commands from me. 20 My soul is consumed with longing for your laws at all times. 21 You rebuke the arrogant, who are cursed and who stray from your commands. 22 Remove from me scorn and contempt, for I keep your statutes. 23 Though rulers sit together and slander me, your servant will meditate on your decrees. 24 Your statutes are my delight; they are my counselors.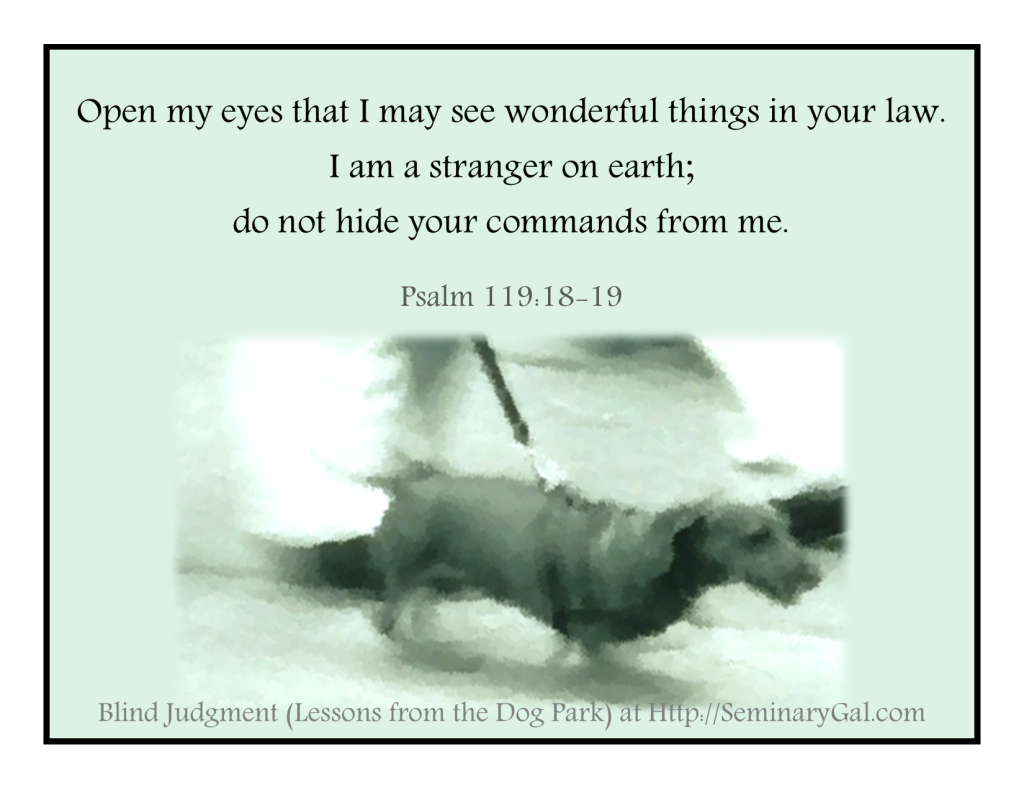 I feel a little sheepish admitting this, but while the man struggling to open the gate (just like I did) walked his dogs—one running free and the other by his side, I noticed something that I hadn't seen before.  In his hand there was something straight with a white end.  In embarrassment, it occurred to me that it was either a leash that looked like a blind man's walking stick or I hadn't noticed that he was blind.
I paused to consider how many ways I'm really a very judgmental person at heart.  Maybe part of that comes with the analytical territory of thinking about things, processing alternatives, and drawing conclusions.  You know what I concluded?  I was sitting on my porch passing time and passing judgment.
It turns out that it was just a leash—as I pondered the many ways in which this man didn't act as though he was blind.  He looked at the sign, although he put his hand on it.  He looked at his dogs although he used his hands to unclasp the leashes.
But I learned something about God's law.  Sometimes I need my eyes opened to see what's there.  I had been the blind one.  When my eyes are opened to God's law, I can see that oftentimes I'm the one who needs correction—the very instruction God's word offers.
Just as a blind man is a stranger on earth and needs to find ways of interpreting his surroundings, Christians can be blind to ways in which we are strangers here on both sides of the judging equation.  Whether facing others' judgments or being judges ourselves, we can find ourselves blind to the real Judge.
Therefore, like the Psalmist, we can take comfort in being a stranger, and find that "Though rulers sit together and slander me, your servant will meditate on your decrees."  We know who the real Judge is and therefore find comfort in His word.