Colossians 3:12 Therefore, as God's chosen people, holy and dearly loved, clothe yourselves with compassion, kindness, humility, gentleness and patience.
In his discussion of living as Christians who represent Jesus wherever they go, the Apostle Paul turns to characteristics to clothe ourselves with and ones we need to put away once and for all.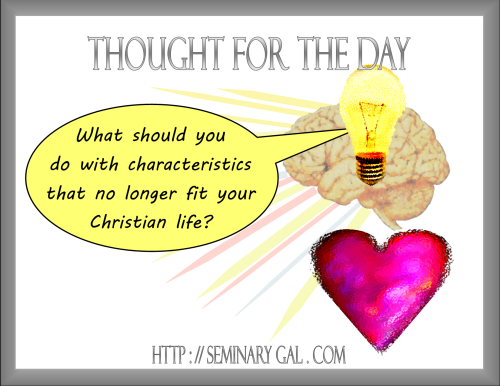 Colossians 3:1 Since, then, you have been raised with Christ, set your hearts on things above, where Christ is seated at the right hand of God. 2 Set your minds on things above, not on earthly things. 3 For you died, and your life is now hidden with Christ in God. 4 When Christ, who is your life, appears, then you also will appear with him in glory. 5 Put to death, therefore, whatever belongs to your earthly nature: sexual immorality, impurity, lust, evil desires and greed, which is idolatry. 6 Because of these, the wrath of God is coming. 7 You used to walk in these ways, in the life you once lived. 8 But now you must rid yourselves of all such things as these: anger, rage, malice, slander, and filthy language from your lips. 9 Do not lie to each other, since you have taken off your old self with its practices 10 and have put on the new self, which is being renewed in knowledge in the image of its Creator. 11 Here there is no Greek or Jew, circumcised or uncircumcised, barbarian, Scythian, slave or free, but Christ is all, and is in all. 12 Therefore, as God's chosen people, holy and dearly loved, clothe yourselves with compassion, kindness, humility, gentleness and patience. 13 Bear with each other and forgive whatever grievances you may have against one another. Forgive as the Lord forgave you. 14 And over all these virtues put on love, which binds them all together in perfect unity. 15 Let the peace of Christ rule in your hearts, since as members of one body you were called to peace. And be thankful.
Paul says your old dead life is gone and it needs to stay that way. It's like an ugly coat of death that no longer fits the Christian looking forward to eternal life.
Give it up for Lent: the old self and all its practices
Questions for Col 3:1-15
What is our primary reason for not going back to the old self?
The whole person is involved. In verses 1-2, we are supposed to set our hearts and our minds on what?
Why must a person rid themselves of things in verse 8 in order to clothe themselves with things in verses 10-15?
What about the items in verses 8-9 make them incompatible with a godly life?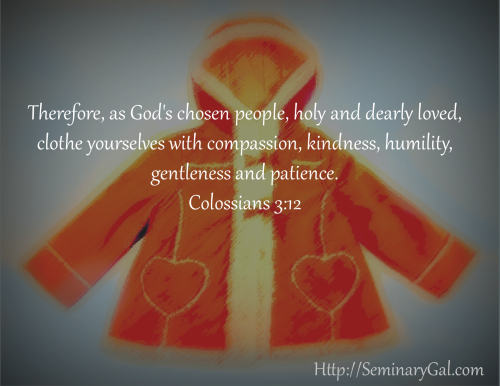 ReKindle is the 2016 Lenten devotional series from Seminary Gal.
To receive these devotionals to your email inbox throughout Lent, please fill in your email address in the space provided on my Home Page in the sidebar (right) and respond to the verification email.  If you already receive devotionals and articles, no need to do anything else.  You'll get them automatically.  Thank you!  Or log onto the SeminaryGal Facebook page and see them reprinted there.
Acknowledging that former years' devotional series remain popular, Be Still and Know that I AM God can be obtained through the archives beginning in March 2014 and With Christ in the Upper Room  is archived beginning February 18, 2015.