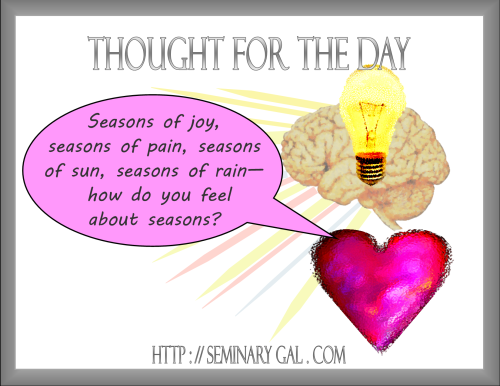 Romans 12:12 Be joyful in hope, patient in affliction, faithful in prayer.
Like self-control, patience is another thing we want…but we don't. There's a reason why we all desire patience but don't like what it takes to develop it. It's tied into the relationship between our will and time, accepting those seasons of our lives for the time they require.
Self-control focuses on limiting our will and desires over a period of God's time.
Patience focuses on removing the limits we place on God's time while He makes our will and desires conform to His own.
Patience doesn't mean we won't eventually have our desires fulfilled, only that we must wait upon God to fill them. Such a thought gives today's passage deeper meaning. Time is the undercurrent of hope, patience, and faithfulness. Our faith in God is what gives our hope a joyful outlook, cultivates patience in both affliction and good times, and prompts a consistent prayer life whether times are good or bad.
Consider what the Apostle Peter has recorded for us: 2 Peter 3: 2 I want you to recall the words spoken in the past by the holy prophets and the command given by our Lord and Savior through your apostles. 3 First of all, you must understand that in the last days scoffers will come, scoffing and following their own evil desires. 4 They will say, "Where is this 'coming' he promised? Ever since our fathers died, everything goes on as it has since the beginning of creation." 5 But they deliberately forget that long ago by God's word the heavens existed and the earth was formed out of water and by water. 6 By these waters also the world of that time was deluged and destroyed. 7 By the same word the present heavens and earth are reserved for fire, being kept for the day of judgment and destruction of ungodly men. 8 But do not forget this one thing, dear friends: With the Lord a day is like a thousand years, and a thousand years are like a day. 9 The Lord is not slow in keeping his promise, as some understand slowness. He is patient with you, not wanting anyone to perish, but everyone to come to repentance. 10 But the day of the Lord will come like a thief. The heavens will disappear with a roar; the elements will be destroyed by fire, and the earth and everything in it will be laid bare. 11 Since everything will be destroyed in this way, what kind of people ought you to be? You ought to live holy and godly lives 12 as you look forward to the day of God and speed its coming. That day will bring about the destruction of the heavens by fire, and the elements will melt in the heat. 13 But in keeping with his promise we are looking forward to a new heaven and a new earth, the home of righteousness. 14 So then, dear friends, since you are looking forward to this, make every effort to be found spotless, blameless and at peace with him. 15 Bear in mind that our Lord's patience means salvation
Give it up for Lent: thinking that time is our resource rather than God's
Questions for Romans 12:12 and 2 Peter 3:2-15
How can patience with God's timing help us to remain joyful and faithful?
What is God's purpose in using time?
What happens when time runs out? What's the difference between God's patience running out and His time coming to fulfillment?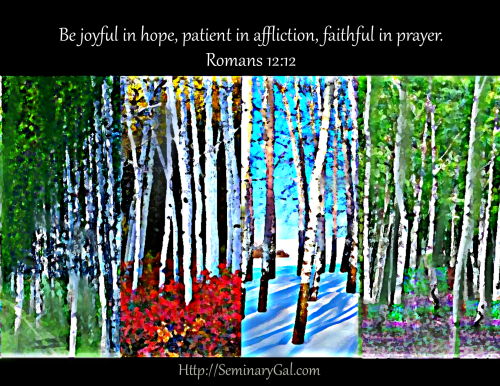 ReKindle is the 2016 Lenten devotional series from Seminary Gal.
To receive these devotionals to your email inbox throughout Lent, please fill in your email address in the space provided on my Home Page in the sidebar (right) and respond to the verification email.  If you already receive devotionals and articles, no need to do anything else.  You'll get them automatically.  Thank you!  Or log onto the SeminaryGal Facebook page and see them reprinted there.
Acknowledging that former years' devotional series remain popular, Be Still and Know that I AM God can be obtained through the archives beginning in March 2014 and With Christ in the Upper Room  is archived beginning February 18, 2015.