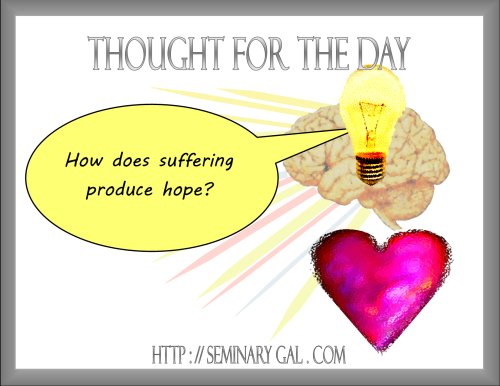 Romans 5:1 Therefore, since we have been justified through faith, we have peace with God through our Lord Jesus Christ, 2 through whom we have gained access by faith into this grace in which we now stand. And we rejoice in the hope of the glory of God. 3 Not only so, but we also rejoice in our sufferings, because we know that suffering produces perseverance; 4 perseverance, character; and character, hope. 5 And hope does not disappoint us, because God has poured out his love into our hearts by the Holy Spirit, whom he has given us.
I love that!  We have a hope that does not disappoint us. 
We have a fountain of hope because God, whose resources and love are beyond all measure, is pouring His love into our hearts through His living Spirit.  Yes, it's once-and-done in receiving this deposit, this guarantee of our inheritance, but it's more, too!  It's an ongoing pouring because the Holy Spirit is God, He is alive, and His Word is alive.  He is our fountain of hope, constantly pouring into our lives.
Hebrews 3:6 But Christ is faithful as a son over God's house. And we are his house, if we hold on to our courage and the hope of which we boast.
To have a rekindled hope, we need to think about in whom we must have our hope. Especially in times of suffering when it's easy to look at our circumstances (which can be awful and constantly changing).  But God is love and is forever unchanging.  Therefore, if our hope is not in our circumstances but in God Himself, we can find a constant fountain of hope because God Himself is faithful.  And Jesus showed it all the way to the Cross.
Give it up for Lent: Hope grounded in your circumstances.
Questions for Romans 5:1-5 and Hebrews 3:6
We see the salvation process in Romans 5 but it's more like a rewind to remind us of our hope. At the end of verse 2 we have the hope of the glory of God. What had to happen for us to experience that?
Rejoicing in suffering seems pretty perverse if it's gratuitous suffering. Suffering for no reason whatsoever. But verse 3-5 tells us why suffering isn't pointless for the Christian. Why isn't it?
Is this hope already there? (v. 5) How did it get there?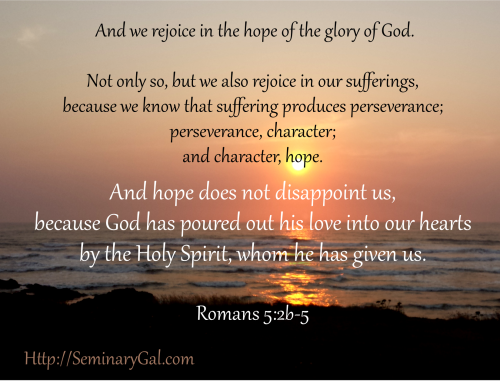 ReKindle is the 2016 Lenten devotional series from Seminary Gal.
To receive these devotionals to your email inbox throughout Lent, please fill in your email address in the space provided on my Home Page in the sidebar (right) and respond to the verification email.  If you already receive devotionals and articles, no need to do anything else.  You'll get them automatically.  Thank you!  Or log onto the SeminaryGal Facebook page and see them reprinted there.
Acknowledging that former years' devotional series remain popular, Be Still and Know that I AM God can be obtained through the archives beginning in March 2014 and With Christ in the Upper Room  is archived beginning February 18, 2015.