Small beginnings. A woman healed from 18 years of disability suddenly bursting forth in praise of God on the Sabbath! A crowd witnessing these wonderful things experiencing total delight! How Jesus must have been truly happy seeing the immediate results of small beginnings in the lives of simply humans! What did it portend for the future? Jesus knew.
Luke 13:18 Then Jesus asked, "What is the kingdom of God like? What shall I compare it to? 19 It is like a mustard seed, which a man took and planted in his garden. It grew and became a tree, and the birds perched in its branches."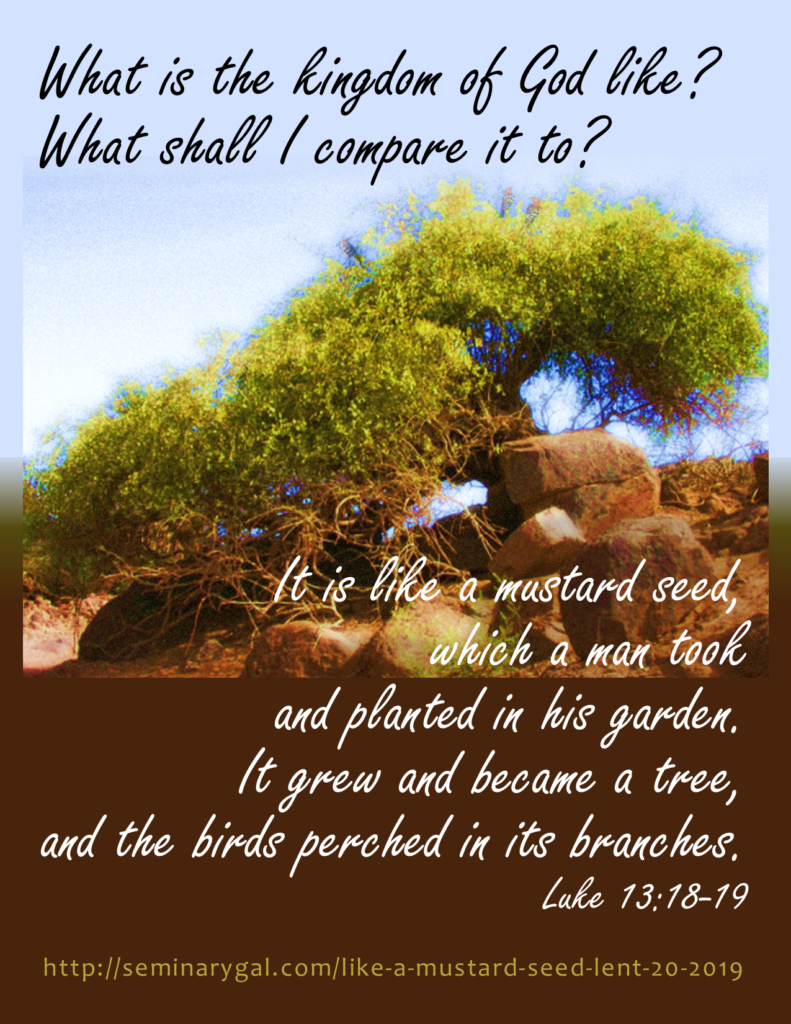 Small beginnings can be a tremendous catalyst.  They can explode in exponential growth.  When it's praise of God and joy and the knowledge of the Kingdom, this growth is an amazing thing to witness!
Jesus loved teaching about the Kingdom and seeing His Words producing fruit that would last. Then, there was knowing that this Gospel would bring His ultimate healing for simply humans. Oh, the eternal joy they would know as they preached it throughout the world! Like nesting birds finding shelter, this hope for mankind–nation after nation–is what He came to bring! He felt a deep sense of satisfaction and praised God in His spirit.
Think about it:
The Gospel is supposed to be good news and we're told "that will cause great joy for all the people. Today in the town of David a Savior has been born to you; he is the Messiah, the Lord" (Luke 2:10-11). Why do we fail to tell the world about this good news?
What types of things bring you delight?
In what ways do our lives display this joy at the wonderful things He has done?
In what ways do our lives display a legal view of the Gospel instead of a redemptive view?
Thank You, Lord, for the Good News of salvation in Your Son Jesus Christ! Thank You for the growth You've promised for Your Kingdom! We praise You, Lord, and trust that when the time is ripe, You will return for Your bride, the Church. May we be attentive to Your truth and energetic in our witness to Your goodness. For this and more, we praise You! Amen.
If you're already signed up on my Home Page sidebar to receive posts, you'll get the 2019 Lent Devotionals automatically. Or you can "Like" Seminary Gal on Facebook and they'll be delivered to your Facebook news feed. If you haven't signed up, today is a great day to do so. Advent and Lenten devotionals remain among my most popular offerings. You don't want to miss this great look at the Easter story to prepare your heart for Easter! Understanding that prior years' devotionals remain popular,