Light Moves. That all by itself is quite remarkable. Unlike much of physical creation, it's never stationary. It's always moving, never sleeping, never stopped unless something extinguishes its source, blocks it from our view, or could absorb it completely. Not even black bodies as imagined by Gustav Kirchhoff or observable black holes do that. Some light has traveled 13.7 billion years to reach us.
Now think about what Jesus said in Matthew 5:14 "You are the light of the world. A city on a hill cannot be hidden. 15 Neither do people light a lamp and put it under a bowl. Instead they put it on its stand, and it gives light to everyone in the house. 16 In the same way, let your light shine before men, that they may see your good deeds and praise your Father in heaven."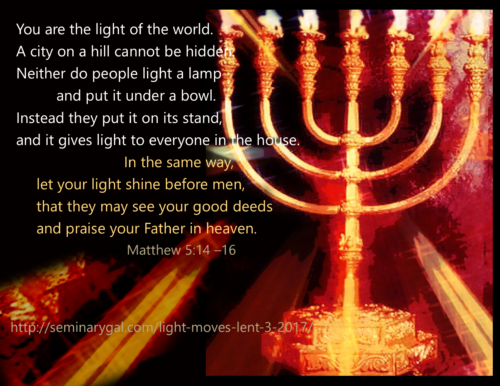 Light is meant to be on the move and so are we. Our good deeds are meant to radiate from our Source (the Holy Spirit) as evidence of God to a watching world. As the light of the world, we are meant to radiate His light and His love. After all, He is the Light of the World and God is love!
John 9:4 "As long as it is day, we must do the work of him who sent me. Night is coming, when no one can work. 5 While I am in the world, I am the light of the world."
Fun fact of light: Regarding the movement of light, it radiates within the electro-magnetic field but it's not electric or magnetic all by itself.
Physicist Matt Calhoun explains,
According to the theory of Electricity and Magnetism, charged particles which are stationary are "electric", charged particles which move at a constant velocity are "magnetic", and charged particles which accelerate will emit "electro-magnetic radiation" which travels at the speed of light…In other words, "light" is the transportation of energy from one part of the electromagnetic field to another, and it facilitates the interaction between electric and magnetic objects, but is neither electric nor magnetic itself.
For further thought:
John 8:12 When Jesus spoke again to the people, he said, "I am the light of the world. Whoever follows me will never walk in darkness, but will have the light of life."

How does following Christ suggest we should always be on the move?
How does following Christ give us the light of life?
How can spiritual darkness be understood as spiritually dying, leading to spiritual death?
Do dead things move? What happens when we display no movement of light?
Our Father in heaven, help us to follow our Lord Jesus and radiate His light and His goodness wherever we go. His light moves and so may ours. May we always be about Your work so long as there is Day for us to be sharing the Gospel and bringing Christ's light to those in darkness so they might have the light of life. Amen.
* * *
Light: There's Nothing Like It, the Seminary Gal 2017 Lenten Devotional Series began March 1, 2017 and will be archived in the sidebar for you.
If you're already signed up on my Home Page sidebar to receive posts, you'll get the 2017 Lent Devotionals automatically. Or you can "Like" Seminary Gal on Facebook and they'll be delivered to your Facebook news feed. If you haven't signed up, today is a great day to do so. Advent and Lenten devotionals remain among my most popular offerings. You don't want to miss this great way to learn about light to prepare your heart for Easter!
Come join me in the Light. There's absolutely nothing like it!
===
Acknowledging that former years' devotional series remain popular: