You are my lamp, O LORD; the LORD turns my darkness into light. (2 Samuel 22:29)
God isn't really a lamp. It's poetic language to paint a picture of what God does: turning human darkness into light of life in His grace.
Unlike a created lamp, we can't turn God off and on. We can't control Him. We can't place limits on the distance His light can travel. We can't extinguish Him and we certainly wouldn't want to. The whole universe falls apart without Him (Colossians 1:15-20). With God as our source, our lamp can always be burning. No matter what, we can't use Him up or exhaust Him. He turns our spiritual darkness into light of life.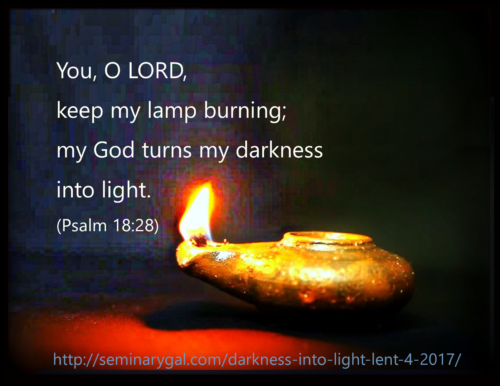 Psalm 18 presents a song of David after being delivered from the hand of Saul. In it, David praises God as a fortress, a shield, a refuge and his protector. It is no surprise that given God's actions in David's life as a deliverer, David would begin the psalm with "I love you, O LORD, my strength" which is missing from the same song also recorded in 2 Samuel 22. Psalms are like that, evoking strong emotions in poetic language.
Psalm 18:28 You, O LORD, keep my lamp burning; my God turns my darkness into light.
Poetic or spiritual (or poetic and spiritual), God gives us sight and keeps us from stumbling in the darkness by keeping our lamps burning. What's not to love about that?
Fun fact of light from Live Science:
The Earth's surface curves out of sight at a distance of 3.1 miles, or 5 kilometers. But our visual acuity extends far beyond the horizon. If Earth were flat, or if you were standing atop a mountain surveying a larger-than-usual patch of the planet, you could perceive bright lights hundreds of miles distant. On a dark night, you could even see a candle flame flickering up to 30 mi. (48 km) away.
How far the human eye can see depends on how many particles of light, or photons, a distant object emits. The farthest object visible with the naked eye is the Andromeda galaxy, located an astonishing 2.6 million light-years from Earth. The galaxy's 1 trillion stars collectively emit enough light for a few thousand photons to hit each square centimeter of Earth every second; on a dark night, that's plenty to excite our retinas.
For further thought:
How is witness like a shining light?

1 Peter 2:9 But you are a chosen people, a royal priesthood, a holy nation, a people belonging to God, that you may declare the praises of him who called you out of darkness into his wonderful light.

And how does the Church collectively look like stars in the universe?

Philippians 2: 14 Do everything without complaining or arguing, 15 so that you may become blameless and pure, children of God without fault in a crooked and depraved generation, in which you shine like stars in the universe 16 as you hold out the word of life.
Lord Jesus, help us to shine like stars in the universe, holding out the word of life to a world in darkness. During this Lenten season as we examine our lives and rediscover what You have done for us, please help Your Church to be the witness You desire her to be, a light for the Gentiles, reflecting the light of Yeshua that cannot be hidden. Inspire us toward good works that shine forth to all nations and bring praise and glory to You! Amen.
* * *
Light: There's Nothing Like It, the Seminary Gal 2017 Lenten Devotional Series began March 1, 2017 and will be archived in the sidebar for you.
If you're already signed up on my Home Page sidebar to receive posts, you'll get the 2017 Lent Devotionals automatically. Or you can "Like" Seminary Gal on Facebook and they'll be delivered to your Facebook news feed. If you haven't signed up, today is a great day to do so. Advent and Lenten devotionals remain among my most popular offerings. You don't want to miss this great way to learn about light to prepare your heart for Easter!
Come join me in the Light. There's absolutely nothing like it!
===
Acknowledging that former years' devotional series remain popular: