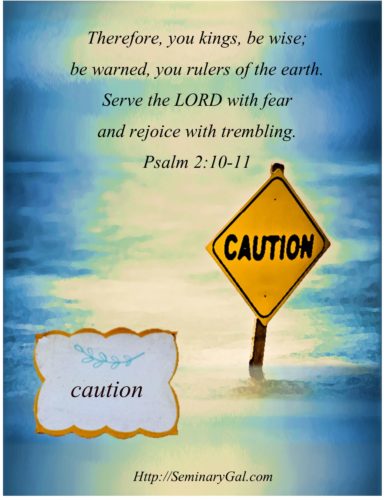 Caution is the flip side of encouragement.
Speaking a word of caution into someone's life is never as welcome as speaking a word of encouragement. Never as welcome, but every bit as necessary.
How do you feel when someone offers you caution about an approach you're taking or a risk you're running?
It doesn't take a Bible scholar to know the prophets spoke a message of caution, of warning, even of rebuke. Speaking a word of caution…when necessary…is one of the Tiny Virtues for Exemplary Christian Living.  All Scripture is good for that, even if many people would rather ignore such caution and just do their own thing anyway. They did at Jesus' crucifixion:
Luke 23:35 The people stood watching, and the rulers even sneered at him. They said, "He saved others; let him save himself if he is the Christ of God, the Chosen One." 36 The soldiers also came up and mocked him. They offered him wine vinegar 37 and said, "If you are the king of the Jews, save yourself." 38 There was a written notice above him, which read: THIS IS THE KING OF THE JEWS. 39 One of the criminals who hung there hurled insults at him: "Aren't you the Christ? Save yourself and us!" 40 But the other criminal rebuked him. "Don't you fear God," he said, "since you are under the same sentence? 41 We are punished justly, for we are getting what our deeds deserve. But this man has done nothing wrong." 42 Then he said, "Jesus, remember me when you come into your kingdom." 43 Jesus answered him, "I tell you the truth, today you will be with me in paradise."
Certainly it's worth noting that speaking critical words for the sake of criticism is no virtue.  But when a word of caution is necessary to keep someone from sinning or harming themselves or others, would you offer that caution?  Would you receive it from a well-meaning brother or sister in Christ?
Ponder today: Whether you sneer at words of caution and warning or whether you take them to heart
"Therefore, you kings, be wise; be warned, you rulers of the earth. Serve the LORD with fear and rejoice with trembling." (Psalm 2:10-11)
Bible character of the day: the criminal who understood, offered caution, and entered paradise