The angel has just left Mary and she would not hear from him again. 
No booster shots of encouragement. 
No bolstering of her faith from an angelic messenger.
Instead, God uses another woman, her relative Elizabeth, to do the work of encouraging and affirming.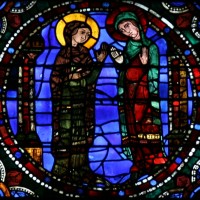 "At that time Mary got ready and hurried to a town in the hill country of Judea, where she entered Zechariah's home and greeted Elizabeth. When Elizabeth heard Mary's greeting, the baby leaped in her womb, and Elizabeth was filled with the Holy Spirit. In a loud voice she exclaimed:
'Blessed are you among women, and blessed is the child you will bear! But why am I so favored, that the mother of my Lord should come to me? As soon as the sound of your greeting reached my ears, the baby in my womb leaped for joy. Blessed is she who has believed that what the Lord has said to her will be accomplished!'" (Luke 1:39-45)
One of the things I like best about the Gospel account from Luke regarding the birth of Christ is the presence of three women of faith: Mary, Elizabeth, and Anna.  It is here that Elizabeth—filled with the Holy Spirit—loudly proclaims Mary's faith in the promises of God.
Scripture does not tell us specifically whether Mary sent a message to Elizabeth ahead of her arrival, but after the angel left, "Mary got ready and hurried."  This suggests that she didn't wait but rather went straightaway.  Maybe she was eager to see God's proof, the evidence in the life of Elizabeth.  Maybe she didn't want for people to think—in her small town of Nazareth—that she was secretly having relations with Joseph so she got out of town for nine-month-calculation purposes. 
What is clear is that Elizabeth believed (just as Mary did) and that the ministry of John the Baptist–preparing the way for Jesus—began while both babies were yet in utero.  That is an amazing thing in and of itself.
Women blessing women.  It was a two-way street.  Mary would have affirmed Elizabeth's pregnancy was a miracle of God and this would have blessed Elizabeth.  In return, the sixth month for Elizabeth's pregnancy just as the angel had said, Elizabeth's baby leaping for joy, and also Elizabeth's words would have encouraged Mary three times over.
It is amazing the way God uses us to encourage one another!
To whom can you be an encouragement today?