And Mary said: "My soul magnifies the Lord,  And my spirit has rejoiced in God my Savior.'"   Luke 1:46-47 New King James Version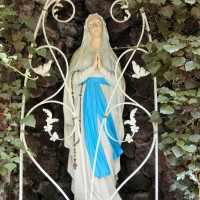 The Magnificat, as Mary's song is often called, is rich with theology.  The name Magnificat comes from the Latin for [My soul] "magnifies" translated this way in the New King James (above), but below as "glorifies" in the NIV. 
Mary knew how to praise.  She was no uneducated neophyte when it came to the Scriptures and her command of Hebrew poetry is obvious too.
A noticeable feature of Hebrew poetry is parallelism. It is largely displayed in the Psalms, but also in songs interspersed elsewhere in the Bible.  Parallelism happens when nearby words express a similar general idea.   Here is the whole song of Mary from the NIV.  See if you can find the parallel thoughts:
Luke 1: 46 And Mary said: "My soul glorifies the Lord 47 and my spirit rejoices in God my Savior, 48 for he has been mindful of the humble state of his servant. From now on all generations will call me blessed, 49 for the Mighty One has done great things for me– holy is his name. 50 His mercy extends to those who fear him, from generation to generation. 51 He has performed mighty deeds with his arm; he has scattered those who are proud in their inmost thoughts. 52 He has brought down rulers from their thrones but has lifted up the humble. 53 He has filled the hungry with good things but has sent the rich away empty. 54 He has helped his servant Israel, remembering to be merciful 55 to Abraham and his descendants forever, even as he said to our fathers."
My soul.  My spirit.
Magnifies/glorifies.  Rejoices.
The Lord.  God my Savior.
Generations will call me blessed.  His mercy extends to the generations.
Then there are 3 parallel contrasts outlining God's care for the righteous poor and their ultimate vindication contrasted with the self-made man who does not need God :
He performs mighty deeds on behalf of those who fear Him (i.e. the humble) but He scatters those who don't (i.e. the proud).
He brings down rulers but raises up the humble.
He fills the hungry, but sends the rich away empty.
And finally, the praise begun at the outset of the Magnificat repeats a refrain extolling the King who helps His servants.  He is mindful of Mary (v 48) and He remembers His people Israel (v 54). 
This lovely song expressed Mary's heart of praise and thanksgiving as she awaited the baby who would be born Messiah.  As we wait for Jesus' return, let our souls magnify the Lord and rejoice in God our Savior!