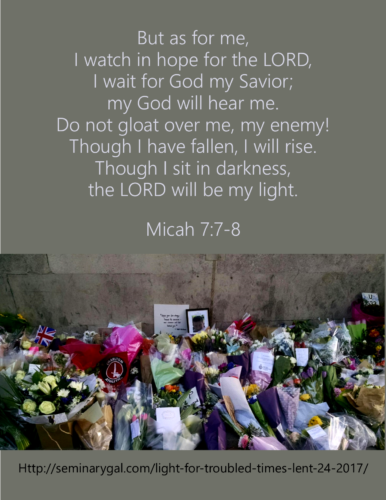 Micah 7:1 What misery is mine! I am like one who gathers summer fruit at the gleaning of the vineyard; there is no cluster of grapes to eat, none of the early figs that I crave. 2 The godly have been swept from the land; not one upright man remains. All men lie in wait to shed blood; each hunts his brother with a net. 3 Both hands are skilled in doing evil; the ruler demands gifts, the judge accepts bribes, the powerful dictate what they desire– they all conspire together. 4 The best of them is like a brier, the most upright worse than a thorn hedge. The day of your watchmen has come, the day God visits you. Now is the time of their confusion. 5 Do not trust a neighbor; put no confidence in a friend. Even with her who lies in your embrace be careful of your words. 6 For a son dishonors his father, a daughter rises up against her mother, a daughter-in-law against her mother-in-law– a man's enemies are the members of his own household. 7 But as for me, I watch in hope for the LORD, I wait for God my Savior; my God will hear me. 8 Do not gloat over me, my enemy! Though I have fallen, I will rise. Though I sit in darkness, the LORD will be my light. 9 Because I have sinned against him, I will bear the LORD's wrath, until he pleads my case and establishes my right. He will bring me out into the light; I will see his righteousness. 10 Then my enemy will see it and will be covered with shame.
We're living in troubled times. Not just in the United States. It's all over the world. Glossing over it is to live in denial. Putting a pretty and diverse frame around it fails to resolve the problem. The problem is sin.
Lent is traditionally a season during which we contemplate the reasons why Jesus had to die. Reasons which are simultaneously legion and can be boiled down to one: sin.
Plenty of pastors and preachers, certainly the lion's share of politicians don't want to talk much about sin. This is the legacy of troubled times brought about by sin's hold on the human race, a godless moral relativism, and a pathetic paucity of genuine Bible teaching, its truth being cast as just one of many ideas in a world of diversity.
Are you sitting in darkness, embracing some kind of sin? The LORD will be your light. The Savior will be your righteousness if you are willing to come out of the darkness and shame. Jesus came to bear your shame and experience God's wrath so you wouldn't have to.
Are you in need of the comforting light of the Savior? He loves you. Come into His light.
Fun Fact of Light: Okay, today's isn't really fun at all. It's about Memorial Candles. They're used in many religious traditions and we often see them lit as part of memorials post-tragedy. Among the many reasons in Jewish tradition, Chabad explains beginning with this one,
"We Jews light a whole lot of candles for the dead. I have seen candles lit at a shivah house of mourning, on the yahrtzeit (anniversary of passing), and even for the entire first year of mourning. What is the reason behind the candle, and when did the custom begin? … The verse states, "The soul of man is the lamp of G‑d." As such, the candle serves as a remembrance of the departed soul."
For Further Thought:
Why would a memorial candle bring comfort from a Christian point of view? How does today's Scripture passage shed light on this practice?
Thank You, Lord Jesus, for experiencing all the shame and all the wrath so we do not have to. Thank You, that this life is not all there is for those who believe in You. We pray for those who have died in attacks this past week, in persecution, in desperate and troubled times. We pray for those needing Your comfort and the light of joy in You as they face life in a deeply troubled world. Amen.