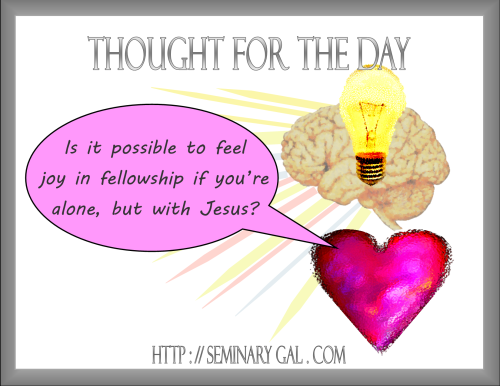 Isolation can steal our joy. Many Americans know what it's like to be lonely, to feel isolated, unwanted, unappreciated, and unloved. The ember to be rekindled—even if not smothered by sin or wrong priorities—can still go out if it is isolated. Take a burning ember and push it to a far corner of a fireplace by itself and it will go out. It needs the warmth of fellowship. It needs the fresh wind of the Spirit.
Jesus Christ will warm our fellowship and breathe life and fire into our souls. He makes us fruitful and gives us joy rekindled. But only if we abide in fellowship with Him.
Jesus said, John 15:1 "I am the true vine, and my Father is the gardener. 2 He cuts off every branch in me that bears no fruit, while every branch that does bear fruit he prunes so that it will be even more fruitful. 3 You are already clean because of the word I have spoken to you. 4 Remain in me, and I will remain in you. No branch can bear fruit by itself; it must remain in the vine. Neither can you bear fruit unless you remain in me. 5 "I am the vine; you are the branches. If a man remains in me and I in him, he will bear much fruit; apart from me you can do nothing. 6 If anyone does not remain in me, he is like a branch that is thrown away and withers; such branches are picked up, thrown into the fire and burned. 7 If you remain in me and my words remain in you, ask whatever you wish, and it will be given you. 8 This is to my Father's glory, that you bear much fruit, showing yourselves to be my disciples."
Give it up for Lent: Loner-style individualism that rejects fellowship with Christ.
Questions for John 15:1-8.
We've all seen a stick attached to a tree where the stick is dead even though the tree is full of life. There has formed an "abscission layer" which is kind of like a wall between the living tissue and that which is dead. What does our passage say happens with that dead branch (verses 2 and 6)?
Maybe you've also seen when a plant (maybe a tomato for example) has growth that's out of control or where it's mostly leaves when you want more flowers and more fruit. What does our passage say happens to that? (v.2)
How does going our own way, doing our own thing, act like forming an abscission layer between us and the vine? (vv. 4-6) What is the outcome of that?
What kind of activities can help us to remain, abide, or make our home with Christ?
What is the outcome of such abiding? How does God's glory translate over to our joy?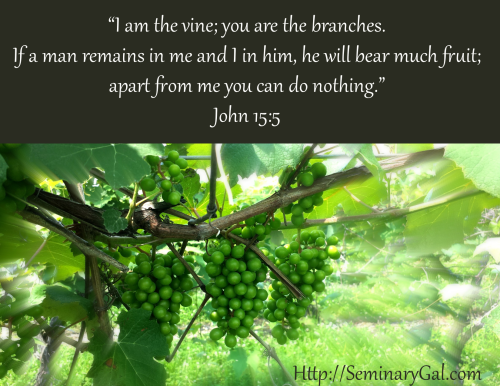 ReKindle is the 2016 Lenten devotional series from Seminary Gal.
To receive these devotionals to your email inbox throughout Lent, please fill in your email address in the space provided on my Home Page in the sidebar (right) and respond to the verification email.  If you already receive devotionals and articles, no need to do anything else.  You'll get them automatically.  Thank you!  Or log onto the SeminaryGal Facebook page and see them reprinted there.
Acknowledging that former years' devotional series remain popular, Be Still and Know that I AM God can be obtained through the archives beginning in March 2014 and With Christ in the Upper Room  is archived beginning February 18, 2015.