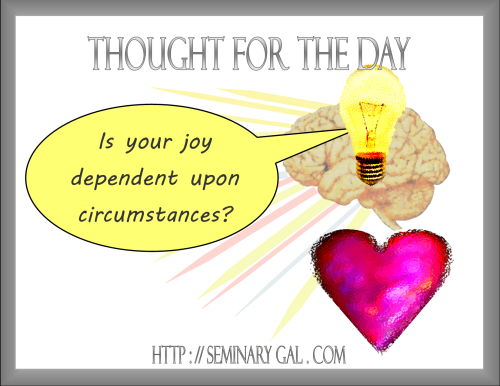 Few things in this old world can steal your joy like…uh… this old world.  It seems like a world of joy stealers, but is it really?  Is your joy dependent upon circumstances?
Of course, there are fears and terror. Apathy and anxiety. Pride and prejudice. Job losses. Bad economies at home and around the globe. Look over the horizon of your world and there's a whole army of circumstances that–when turned inward–can become joy stealers. In my own life, I say, "Enough!"
How can we rekindle our joy?

By looking upward to find it, not horizontally. 
Today is Ash Wednesday. It's a day when traditionally, we look square-in-the-eye those worldly priorities and our own materialism and see a need to repent. Find those joy stealers and "first world problems" that hold our minds captive. Identify whatever pulls our hearts away from Christ. And then make a conscious decision to stop letting them steal our joy.
You know what? In letting go of all that smothers our joy, we can find it rekindled.
An ember that is smothered by ash loses its ability to burn. A Christian smothered by sin and bad priorities loses the ability to have joy in the Lord.  Rekindle it. Or as the Apostle Paul writes: Philippians 4:4 Rejoice in the Lord always. I will say it again: Rejoice! 5 Let your gentleness be evident to all. The Lord is near. 6 Do not be anxious about anything, but in everything, by prayer and petition, with thanksgiving, present your requests to God. 7 And the peace of God, which transcends all understanding, will guard your hearts and your minds in Christ Jesus. 8 Finally, brothers, whatever is true, whatever is noble, whatever is right, whatever is pure, whatever is lovely, whatever is admirable– if anything is excellent or praiseworthy– think about such things. 9 Whatever you have learned or received or heard from me, or seen in me– put it into practice. And the God of peace will be with you.
Give it up for Lent: Anything that smothers your joy in the Lord
Questions for Philippians 4:4-9
How often are we supposed to rejoice in the Lord? (v. 4)
To have joy in place of anxiety, what are we supposed to do? (v. 5-6) What joy stealer is mentioned in verse 6? How does it steal our joy?
What happens when we present our requests to God? (v. 7). Why is it necessary to have our hearts and minds guarded? What assaults our minds every day?
How does our thought life (and ability to imitate what is good) become a key to peace and a rekindled joy?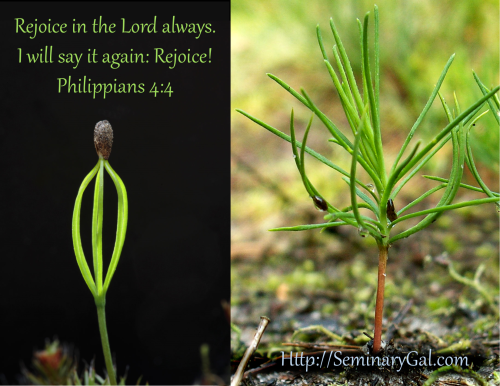 ReKindle is the 2016 Lenten devotional series from Seminary Gal.
To receive these devotionals to your email inbox throughout Lent, please fill in your email address in the space provided on my Home Page in the sidebar (right) and respond to the verification email.  If you already receive devotionals and articles, no need to do anything else.  You'll get them automatically.  Thank you!  Or log onto the SeminaryGal Facebook page and see them reprinted there.
Acknowledging that former years' devotional series remain popular, Be Still and Know that I AM God can be obtained through the archives beginning in March 2014 and With Christ in the Upper Room  is archived beginning February 18, 2015.