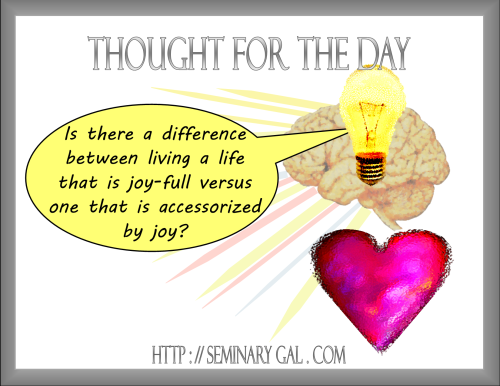 Is there a difference between living a life that is joy-full versus one that is a life accessorized by joy? Which one do you want: joyful or joy-full? 
Q:  What makes joy complete, joy-full as it were? 
A:  Fellowship.
Philippians 2:1 If you have any encouragement from being united with Christ, if any comfort from his love, if any fellowship with the Spirit, if any tenderness and compassion, 2 then make my joy complete by being like-minded, having the same love, being one in spirit and purpose. 3 Do nothing out of selfish ambition or vain conceit, but in humility consider others better than yourselves. 4 Each of you should look not only to your own interests, but also to the interests of others.
We must be connected to Christ and connected to one another to have complete joy. Oddly though, sometimes other people can be the very ones who keep us from experiencing a joy-full life. I don't know about you but I always hated team projects in school. It was inevitably a recipe for frustration in the making. I could resonate with the Peanuts comic character Linus who said, "I love mankind; it's people I can't stand."
Group projects always seemed to bring out the worst in people. What characteristics do we hate about group projects?  Ah, they are Legion.
So what do we have in the Church? One big group project. Ugh. But the Apostle Paul makes it clear that we experience the most joy-full life by genuine fellowship.
Give it up for Lent: Hatred of "group projects" in the Church.
Questions from Philippians 2:1-4 which outlines ways to rekindle your joy:
How does being united with Christ (abiding with and in Him) translate over to being full of joy?
Paul's complete joy came from seeing Jesus' disciples behaving as Jesus would have them behave. What activities characterize that being "like-minded"?  How does that behavior look different than in other group projects you might have experienced?
What is the repeated theme of behavior for Christians to demonstrate? What must be rekindled in order to live like that? What is the relationship between you and others?
What is one thing you can do today to put others first in your life?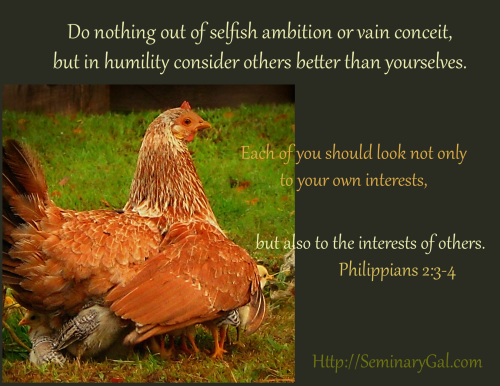 ReKindle is the 2016 Lenten devotional series from Seminary Gal.
To receive these devotionals to your email inbox throughout Lent, please fill in your email address in the space provided on my Home Page in the sidebar (right) and respond to the verification email.  If you already receive devotionals and articles, no need to do anything else.  You'll get them automatically.  Thank you!  Or log onto the SeminaryGal Facebook page and see them reprinted there.
Acknowledging that former years' devotional series remain popular, Be Still and Know that I AM God can be obtained through the archives beginning in March 2014 and With Christ in the Upper Room  is archived beginning February 18, 2015.