Jesus was astonished (and not in a good way) witnessing the audacity of mankind. Human pride was something truly horrid to behold…but people were blind to how awful it is. Some didn't see it as a sin at all and yet, it was part of what was driving Him to the Cross. It had to be paid in full whether people could see it as sin or not.
Luke 18:9 To some who were confident of their own righteousness and looked down on everyone else, Jesus told this parable: 10 "Two men went up to the temple to pray, one a Pharisee and the other a tax collector. 11 The Pharisee stood by himself and prayed: 'God, I thank you that I am not like other people– robbers, evildoers, adulterers– or even like this tax collector. 12 I fast twice a week and give a tenth of all I get.'
Some in the crowd nodded approvingly.  They were grateful they weren't sinners like other people and would keep their distance from getting polluted, too.  Jesus' gaze pierced their thoughts as He continued,
13 "But the tax collector stood at a distance. He would not even look up to heaven, but beat his breast and said, 'God, have mercy on me, a sinner.'
Exactly right!  That's what those in the crowd thought.  Jesus knew they were tracking along simply human lines, so He continued to the point of the story,
14 "I tell you that this man, rather than the other, went home justified before God. For all those who exalt themselves will be humbled, and those who humble themselves will be exalted."
The people were dumbfounded. How could He say such a thing? The righteous man who fasts and tithes and goes to temple to pray doesn't get justified before God? "The Pharisee, not the sinner, was doing everything right!" they protested silently. Why does the sinner get justified? Jesus never averted His gaze and so He seemed to be analyzing their thoughts all the way down into their souls. They didn't get it. Many of them would never understand.
The disciples were supposed to be different, especially since they'd been following for some time now.  But they too needed a lesson on the beauty of innocent faith and on humility before Jesus could head to the Cross.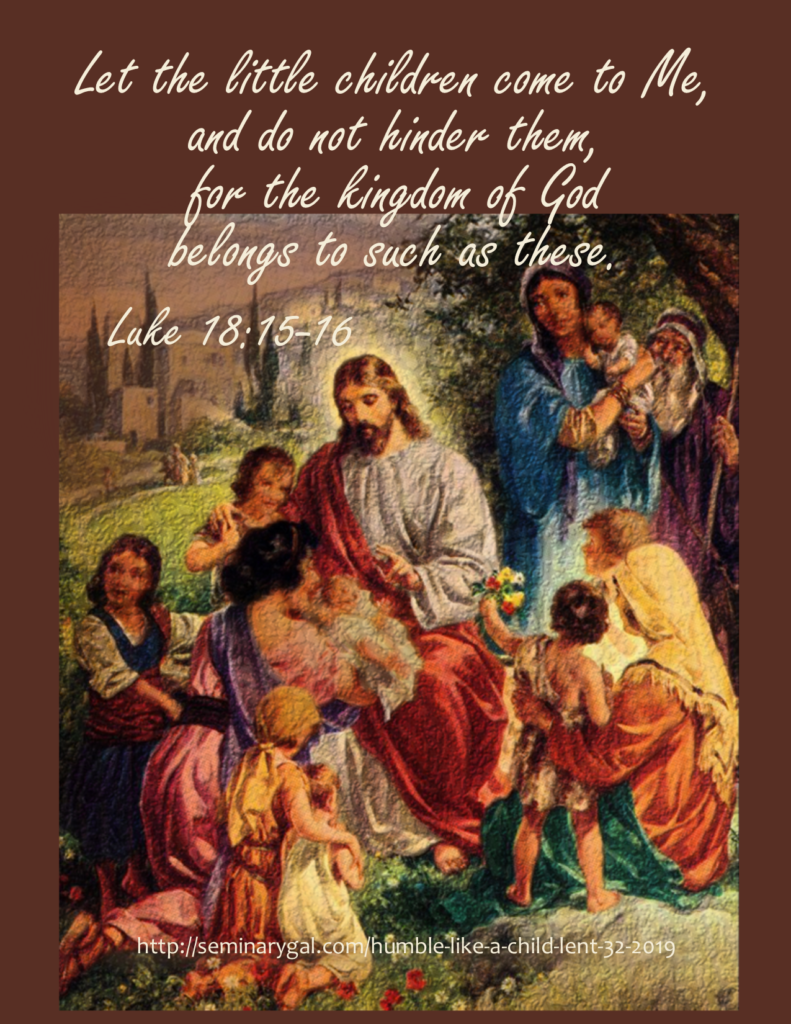 Luke 18:15 People were also bringing babies to Jesus for him to place his hands on them. When the disciples saw this, they rebuked them. 16 But Jesus called the children to him and said, "Let the little children come to me, and do not hinder them, for the kingdom of God belongs to such as these. 17 Truly I tell you, anyone who will not receive the kingdom of God like a little child will never enter it."
The disciples, too, were speechless.
Think about it:
The destructive nature of human pride is a very common tale. What about pride makes it so destructive?
When you think about your life, do you ever imagine yourself as primarily sinful or primarily a pretty good person?
In what ways are the destructive nature of pride and an optimistic view regarding our own state connected?
Is it easier to see pride as a sin in someone else's life?
Thank You, Lord God, for valuing humility and for instructing us in what is good and what You require. (Micah 6:8) Holy Spirit, please give us wisdom to act justly and to love mercy and to walk humbly with our God. Help us not to think of ourselves more highly than we ought, but rather think of ourselves with sober judgment, in accordance with the faith God has distributed to each of us. (Romans 12:3)
If you're already signed up on my Home Page sidebar to receive posts, you'll get the 2019 Lent Devotionals automatically. Or you can "Like" Seminary Gal on Facebook and they'll be delivered to your Facebook news feed. If you haven't signed up, today is a great day to do so. Advent and Lenten devotionals remain among my most popular offerings. You don't want to miss this great look at the Easter story to prepare your heart for Easter! Understanding that prior years' devotionals remain popular,