God didn't wait for us to clean up our lives. 
God didn't wait for us to earn our own salvation.
Praise God, He didn't wait.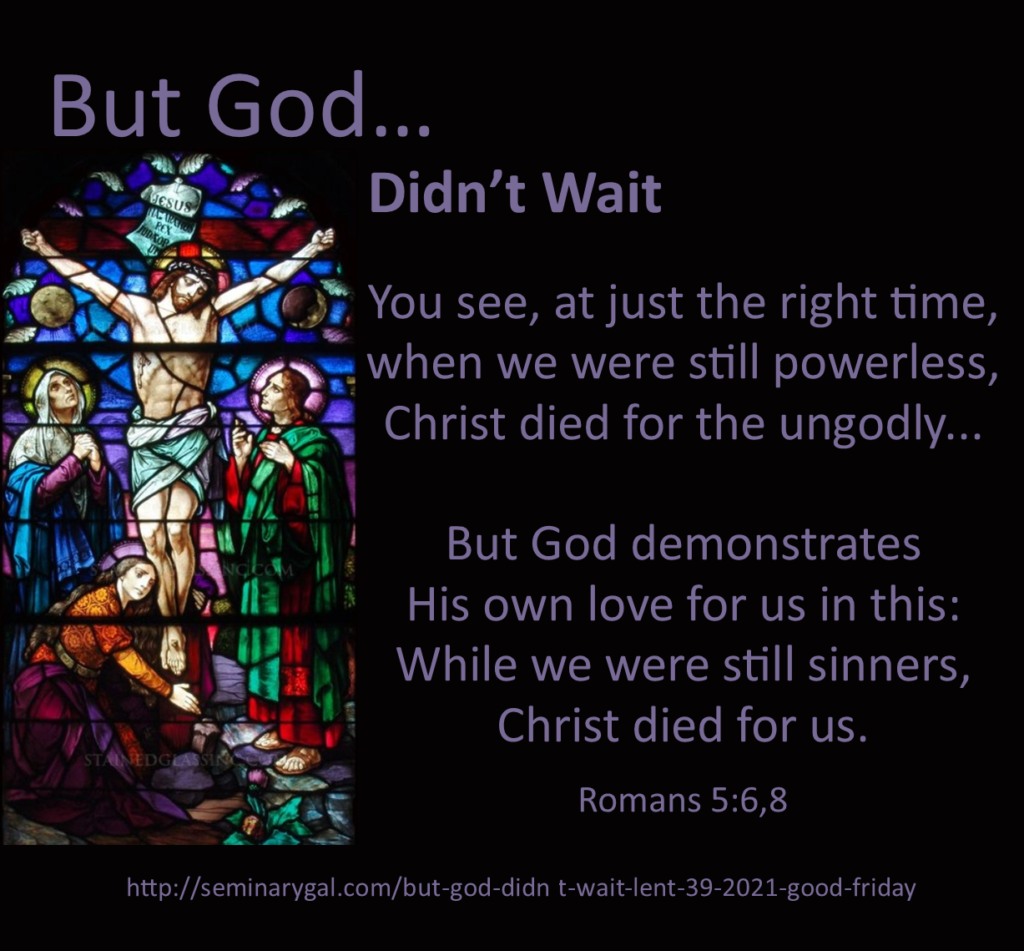 Romans 5:1 Therefore, since we have been justified through faith, we have peace with God through our Lord Jesus Christ, 2 through whom we have gained access by faith into this grace in which we now stand. And we boast in the hope of the glory of God. 3 Not only so, but we also glory in our sufferings, because we know that suffering produces perseverance; 4 perseverance, character; and character, hope. 5 And hope does not put us to shame, because God's love has been poured out into our hearts through the Holy Spirit, who has been given to us. 6 You see, at just the right time, when we were still powerless, Christ died for the ungodly. 7 Very rarely will anyone die for a righteous person, though for a good person someone might possibly dare to die. 8 But God demonstrates his own love for us in this: While we were still sinners, Christ died for us.
Father God, we can't thank You enough for sending Your Son Jesus Christ to die on a cross for our sins… that we might be made right with You by Your grace through faith which itself is a gift from You. We praise You for the faithfulness of our Lord and Savior. We praise You for the work that He did on the cross and for the way that He prepared a place for us. And even now reaches out to us in the midst of our trials and struggles and sins. He calls us into relationship with Him, into relationship with You, our Father in heaven. Make us mindful of the depth of human sin that required Good Friday to be necessary. We praise You, Lord, and we offer You thanks and glory now and forevermore. Amen.
If you're already signed up on my Home Page sidebar to receive posts, you'll get the 2021 Lent Devotionals automatically. Or you can "Like" Seminary Gal on Facebook and they'll be delivered to your Facebook news feed. If you haven't signed up, today is a great day to do so. Advent and Lenten devotionals remain among my most popular offerings. You don't want to miss this encounter with God to prepare your heart for Easter! Understanding that prior years' devotionals continue to minister, you may want to have access to a full series ahead of time: