Circumcision—the bris ceremony—is a family celebration for the Jews. It reminds them of the covenant and at its most faithful heart, it's more than just a tradition to observe. It's a big deal for Jewish families and everyone gets together for the event and parties afterward with food. As we continue our look at the Christmas narrative in Still Christmas (Advent Devotional Series 2017), let's take a look at the recorded bris ceremony of John the Baptist.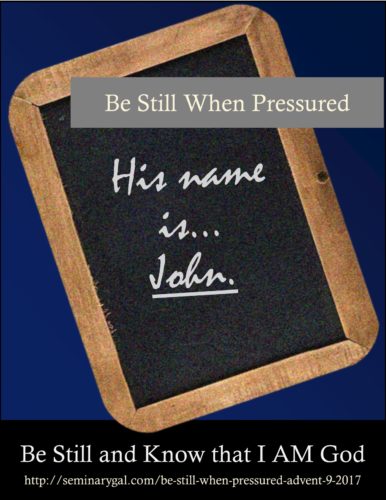 Luke 1:59 On the eighth day they came to circumcise the child, and they were going to name him after his father Zechariah, 60 but his mother spoke up and said, "No! He is to be called John." 61 They said to her, "There is no one among your relatives who has that name." 62 Then they made signs to his father, to find out what he would like to name the child. 63 He asked for a writing tablet, and to everyone's astonishment he wrote, "His name is John."
Everyone else was planning on giving him the name of his father Zechariah, but Elizabeth remembered that God provided this blessing and the name he was to be given. Zechariah has been totally silent from the day he saw the angel so Elizabeth was the one to speak: "He is to be called John."
Other people began to pressure her. Then they tried to override her by motioning for Zechariah to nix that whole John thing.
Months of being in God's time-out-corner had worked wonders on Zechariah's heart. He had plenty of time to remember the fear and to process the angelic announcement. Remember? Luke 1:13 "Do not be afraid, Zechariah; your prayer has been heard. Your wife Elizabeth will bear you a son, and you are to give him the name John. 14 He will be a joy and delight to you, and many will rejoice because of his birth…17 And he will go on before the Lord, in the spirit and power of Elijah, to turn the hearts of the fathers to their children and the disobedient to the wisdom of the righteous– to make ready a people prepared for the Lord."
Zechariah surely remembered the "How can I be sure of this?" Luke 1:18 misstep. He'd been forced to Be Still. He saw God had been faithful even when Zechariah himself had not been a paragon of faith. Now, he had every proof that he'd needed that God was giving him a son and things were unfolding as God had planned. He remembered the name: John.
* * *
Be Still, Elizabeth and Zechariah. Things are being fulfilled in your lives. Get ready for a wonderful ride.
Be Still. Peer-pressure melts away in My presence. Who is the one you obey? I'm glad you displayed that it's Me.
Be Still and Know that I AM God. My plan begins with announcement and unfolds just as I desire. Your son is part of that plan. Isaiah 42:9 "Behold, the former things have come to pass, Now I declare new things; Before they spring forth I proclaim them to you."
Be Still and Know that I AM God. My Servant will come in your lifetimes, Elizabeth and Zechariah. Your son John will prepare the way for Him.
Questions for Reflection:
Have you ever faced peer-pressure or had someone try to override what you knew to be your rightful decision? How did it make you feel?

If you're married, has anyone ever tried to work between you and your spouse to overturn your decision? What actions do you see Elizabeth and Zechariah taking that might help you?
===
Still Christmas, Advent 2017 Devotionals began December 3, 2017 and are archived from that date.