It's hard to argue with results.
For all the surprise that aging Elizabeth's pregnancy provided, the birth of a son was something even neighbors and friends could celebrate.
Luke 1:57 When it was time for Elizabeth to have her baby, she gave birth to a son. 58 Her neighbors and relatives heard that the Lord had shown her great mercy, and they shared her joy.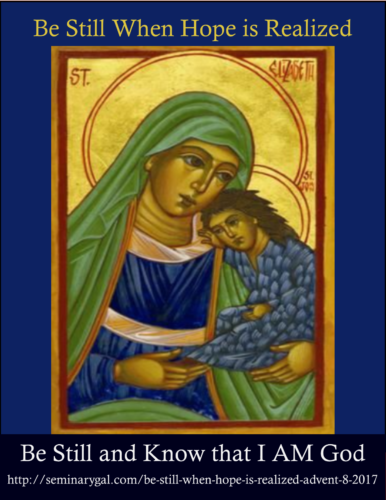 As we continue our Advent Devotionals for 2017, Still Christmas, let's continue to make-it-real with the Bible narrative and see the dangers to stillness presented with blessing, with a hope being realized.
How would you have felt if a long-cherished dream finally came to fruition?
Would you be so over-the-moon happy that you could hardly contain yourself?
Would you be so excited about the results that you forgot to remember who provided them for you?
Would you take time to remember God when you're so happy and in the presence of others celebrating with you?
It's hard to Be Still in such times. In fact, times of great blessing are times in which humanity is weakest. It's hard to Be Still. It's easy to forget.
* * *
Be Still, Elizabeth. Take time to be joyful in the mercy I have shown you.
Be Still. I rejoice with you and receive glory in your joy. I love giving life and bringing happiness to people.
Be Still and Know that I AM God when you're tempted to be more in love with the blessing than with Me.
Be Still and Know that I AM God. Remember the caution I spoke to your ancestors through My servant Moses: Deuteronomy 6:10 "When the LORD your God brings you into the land he swore to your fathers, to Abraham, Isaac and Jacob, to give you– a land with large, flourishing cities you did not build, 11 houses filled with all kinds of good things you did not provide, wells you did not dig, and vineyards and olive groves you did not plant– then when you eat and are satisfied, 12 be careful that you do not forget the LORD, who brought you out of Egypt, out of the land of slavery."
Questions for Reflection:
Why might it be easier to forget God in times of fulfilled blessing?

When others are celebrating along with you, is it easier or harder to remember God? Why?

We can remember the time of misery (slavery) or we can remember the God who redeemed us out of it. What happens when we focus solely on slavery in our past instead of the present life, or even forward to the deliverance from our sufferings?

It's often said that Memory Lane is a great place to visit, but a terrible place to dwell. Are we actually living in freedom or slavery, if we keep looking back? How do we balance cherishing memories and living in the freedom and hope for our future?

When hope is realized, where do we find greater rest for our hearts as we learn to Be Still and Know that He is God: in the past, the present, or the future?
===
Still Christmas, Advent 2017 Devotionals began December 3, 2017 and are archived from that date.