Telling Joseph went better than telling her parents who already had her things on the doorstep to greet her upon her return. A spoiled-purity daughter was of no use to them and definitely no longer welcome to set foot in their home for the sake of their own honor. They wouldn't speak to her or accept any of her pleading or explanation that she was right about Elizabeth.
Bizarre as the explanation was, she had committed to telling them the truth because she couldn't let them believe a lie. She couldn't let them believe a lie about Joseph or about any involvement with another man. But to her parents, this was simply too far-fetched, and she had brought shame upon her entire family. Disowning a daughter—Aieeee–it was something they'd never dreamed possible with such a daughter as Mary! How could she do this terrible thing to them?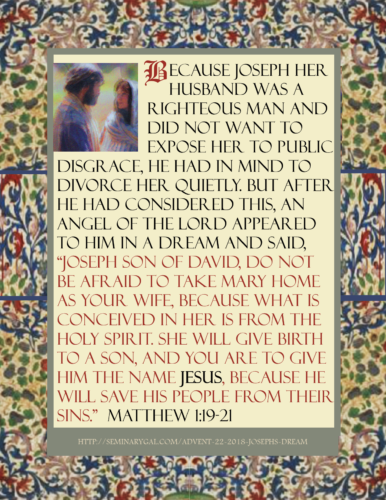 Joseph, too, had heard that she was pregnant, and he knew for a fact that baby wasn't his. He loved Mary but in life sometimes, you need to draw a line, even with those you love. Was he angry? He didn't know! Well, yes it seemed so, but anger didn't feel quite right. Was he disappointed? Certainly! This was never in the bargain for him when he made arrangements with Mary's parents to become betrothed to Mary. Did he feel sorry for her, being thrown out of the house? Yes, but actions once done bring about consequences. She was pregnant, and she deserved it. Her parents were righteous and that's what righteous people do. But to throw a pregnant woman out of your house…? His mind was consumed with so many conflicting thoughts.
How do you treat someone you loved so deeply who has betrayed you in the most profound way possible? How could he remain righteous in Adonai's sight and yet forgive this most unpardonable offense of her being pregnant and bringing shame upon him?
At last, he made up his mind. Matthew 1:19 Because Joseph her husband was a righteous man and did not want to expose her to public disgrace, he had in mind to divorce her quietly. 20 But after he had considered this, an angel of the Lord appeared to him in a dream and said, "Joseph son of David, do not be afraid to take Mary home as your wife, because what is conceived in her is from the Holy Spirit. 21 She will give birth to a son, and you are to give him the name Jesus, because he will save his people from their sins." 22 All this took place to fulfill what the Lord had said through the prophet: 23 "The virgin will be with child and will give birth to a son, and they will call him Immanuel" which means, "God with us."
Mary's story didn't make a bit of sense, but it was confirmed by an angel of the Lord. So, he did as the angel commanded. Joseph, after all, was a righteous man.
***
His Story, Your Story:
In the Middle East, at the time of the birth of Christ, bringing shame upon your family was unforgivable. Women were stoned for situations such as Mary's because in the normal course of events it was sin akin to adultery. What has been lost in our culture by acceptance of out-of-wedlock pregnancy as routine?

Mary's situation wasn't sin, but a miracle of God. Even if the world saw her pregnancy as sin, what can Joseph's story teach us about grace and love that covers over everything?

Joseph is usually treated like a cardboard sidekick in the whole Christmas story, but there are valuable lessons we can learn about righteousness, true righteousness, and its connection to humility from him. His story displays a level of forgiveness and obedience that are genuinely remarkable. Much is made of Mary's obedience and because Joseph wasn't the "real" dad, he's relegated to the role of expendable accessory. What do you think of that given what today's Scripture says?

Would you necessarily believe a dream you had? What do you think made this dream believable?

What does this whole scenario say about Joseph's humility?
Self-Reflection topic: Shame and humility
Prayer: Thank You, Lord Jesus, for the lessons we can learn about shame and humility from the example of Your earthly parents and modeled throughout Your life. Thank you that Scripture reminds us, Hebrews 12:2 "Let us fix our eyes on Jesus, the author and perfecter of our faith, who for the joy set before him endured the cross, scorning its shame, and sat down at the right hand of the throne of God." Shame doesn't need to be our final state and it was not for You. Thank You that shame and humility often precede glory. We seek like-mindedness that Paul talks about in Philippians 2:1 If you have any encouragement from being united with Christ, if any comfort from his love, if any fellowship with the Spirit, if any tenderness and compassion, 2 then make my joy complete by being like-minded, having the same love, being one in spirit and purpose. 3 Do nothing out of selfish ambition or vain conceit, but in humility consider others better than yourselves. 4 Each of you should look not only to your own interests, but also to the interests of others. 5 Your attitude should be the same as that of Christ Jesus: 6 Who, being in very nature God, did not consider equality with God something to be grasped, 7 but made himself nothing, taking the very nature of a servant, being made in human likeness. 8 And being found in appearance as a man, he humbled himself and became obedient to death– even death on a cross! 9 Therefore God exalted him to the highest place and gave him the name that is above every name, 10 that at the name of Jesus every knee should bow, in heaven and on earth and under the earth, 11 and every tongue confess that Jesus Christ is Lord, to the glory of God the Father." We confess Your holy Name, Lord Jesus, and gratefully acknowledge You as Savior and Lord. Amen.
==
Just a few days left to receive these Storyteller devotional studies in your email during Advent 2018 by entering your email address on the SeminaryGal.com home page in the space provided in the sidebar. Or "Like" the SeminaryGal Facebook page to access them there. If you like these devotionals, I'd really appreciate your letting others know so I can continue to spread the Good News far and wide. After Advent is over, there will be devotionals from time to time until the next series at Lent. Blessings to you, in Christ always, Barbara <><
===
Acknowledging inquiries about the entire season's devotionals for your study group's planning purposes, Seminary Gal's prior seasons' Advent devotionals can be accessed via the archives to the right and are as follows:
Last year's Advent Devotional Series (2017), Still Christmas, began December 3, 2017 and was the Advent complement to the Lenten series, Be Still and Know that I AM God.
The 2016 season devotionals were called "Timeless: The Message of Christmas for All Ages" and explored how the message of Christmas is timeless truth, for all ages of people, and for all ages at all times. Timeless hope, encouragement, grace, peace, and love as we looked into the Word, saw the face of our Lord Jesus, and experienced restoration in His presence. His goodness and His Gospel are truly Timeless. The 2016 devotionals began November 27, 2016.
The 2015 season devotionals were titled Incarnation and involved digging deep–and yes, I mean deep– in this important mystery of Christian theology. They began November 29, 2015.
Carol Me, Christmas! remains one of my most popular offerings and tells the Christmas story through our most beloved Christmas hymns and carols. You can access all of the numbered devotionals from 2014 via the archives. They began November 30, 2014.
The 2013 series was Emmanuel: When LOVE Showed Up in Person and examined the Prologue to the Gospel of John. It began December 1, 2013.
The 2012 series focused on Expecting the Unexpected…the unexpected, unlikely, and uniquely divine qualities of God's perfect plan outlined in Luke's account of the Christmas story. It began December 1, 2012.