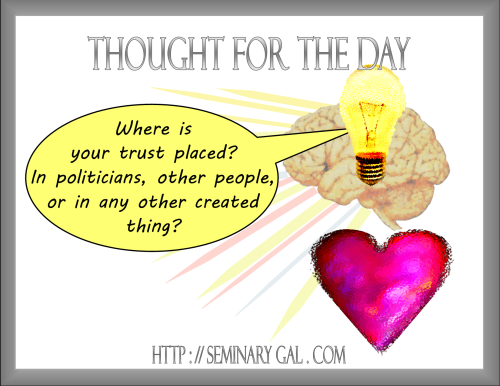 Last week, I asserted that compromising of good and evil doesn't bring glory to God at all. There is no life in that.
For Lent, it'd be good to give up that notion of compromise on moral issues since it's actually saying that God's truth is not absolute and God is not God.
It's time to have a rekindled understanding of God's truth. By understanding, acknowledging, and accepting God's ways, we can have peace no matter what the world throws at us.
Where do you turn in distressing times?

Inward–pull yourself up by your bootstraps?  Outward–it takes a village while getting by with a little help from my friends?  Or do you turn upward and place your trust in God?
We're in the midst of political overload in the US.  Politicians from left to right are wanting your vote by promising to make America great again, to usher in Utopia, to give you everything you ever wanted at someone else's expense, and to take back our country from the unjust and the powerful.  It's hard to find anyone preaching that strength, true wisdom, courage, and a rekindled understanding can only be found in God.  Yup. Even in the Church we're not preaching it.  Yup.  Even from the Pope we're still looking at a man.  There are even articles by those who have given up on revival, stating that God has turned His back on America.  I'm not ready to throw in the towel, to turn my eyes from trusting God, or to consider placing my hope in any man as the only hope I have left.  As for me and my house, we're still looking up and waiting upon God.  What about you?
Will we have a rekindled understanding?
In Isaiah 33, there is a contrast of distress and help and it hinges upon this understanding of God and His truth.
Isaiah 33: 5 The LORD is exalted, for he dwells on high; he will fill Zion with justice and righteousness. 6 He will be the sure foundation for your times, a rich store of salvation and wisdom and knowledge; the fear of the LORD is the key to this treasure. 7 Look, their brave men cry aloud in the streets; the envoys of peace weep bitterly. 8 The highways are deserted, no travelers are on the roads. The treaty is broken, its witnesses are despised, no one is respected. 9 The land mourns and wastes away, Lebanon is ashamed and withers; Sharon is like the Arabah, and Bashan and Carmel drop their leaves. 10 "Now will I arise," says the LORD. "Now will I be exalted; now will I be lifted up. 11 You conceive chaff, you give birth to straw; your breath is a fire that consumes you. 12 The peoples will be burned as if to lime; like cut thornbushes they will be set ablaze." 13 You who are far away, hear what I have done; you who are near, acknowledge my power! 14 The sinners in Zion are terrified; trembling grips the godless: "Who of us can dwell with the consuming fire? Who of us can dwell with everlasting burning?" 15 He who walks righteously and speaks what is right, who rejects gain from extortion and keeps his hand from accepting bribes, who stops his ears against plots of murder and shuts his eyes against contemplating evil– 16 this is the man who will dwell on the heights, whose refuge will be the mountain fortress. His bread will be supplied, and water will not fail him. 17 Your eyes will see the king in his beauty and view a land that stretches afar. 18 In your thoughts you will ponder the former terror: "Where is that chief officer? Where is the one who took the revenue? Where is the officer in charge of the towers?" 19 You will see those arrogant people no more, those people of an obscure speech, with their strange, incomprehensible tongue. 20 Look upon Zion, the city of our festivals; your eyes will see Jerusalem, a peaceful abode, a tent that will not be moved; its stakes will never be pulled up, nor any of its ropes broken. 21 There the LORD will be our Mighty One. It will be like a place of broad rivers and streams. No galley with oars will ride them, no mighty ship will sail them. 22 For the LORD is our judge, the LORD is our lawgiver, the LORD is our king; it is he who will save us.
Can I get an Amen?
Give it up for Lent: Trusting in human wisdom
Questions for Isaiah 33:
What is the key? (v 6)
Identify the contrasts present in Isaiah 33. A rekindled understanding of God will produce what?
Is your trust in politicians being able to negotiate treaties or showing bravery or securing peace accords? Ask God to reveal any ways in which your trust is placed upon created things instead of in God.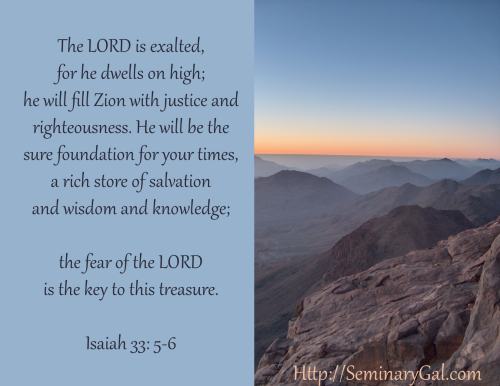 ReKindle is the 2016 Lenten devotional series from Seminary Gal.
To receive these devotionals to your email inbox throughout Lent, please fill in your email address in the space provided on my Home Page in the sidebar (right) and respond to the verification email.  If you already receive devotionals and articles, no need to do anything else.  You'll get them automatically.  Thank you!  Or log onto the SeminaryGal Facebook page and see them reprinted there.
Acknowledging that former years' devotional series remain popular, Be Still and Know that I AM God can be obtained through the archives beginning in March 2014 and With Christ in the Upper Room  is archived beginning February 18, 2015.