"It's just you and me," Joseph reassured Mary. He loved her so much. "And Adonai" Mary reassured him as a sweet smile spread across her face, blooming with the aura of anticipated motherhood.
She had loved Joseph before, but now she loved him all the more for the risks he was taking to his reputation and for his total righteousness in following all that the angel commanded. He had taken her home as his wife and she was profoundly grateful. But because he was righteous, he had no union with her. He understood what was at stake in all of this. (Matthew 1:24-25).
They were almost at Bethlehem now because of that census. Joseph would obey that too. What inconvenient timing, though! He couldn't leave Mary at home. Bringing her on this journey wasn't easy either.
But strong he would be…for her. Faithful he would be…to Adonai.
Honest he would be…even for the Romans and their census.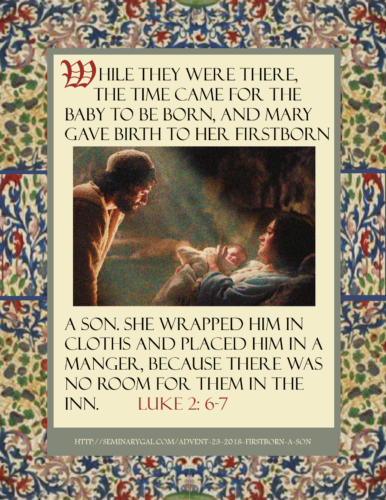 Luke 2:6 "While they were there, the time came for the baby to be born, 7 and Mary gave birth to her firstborn, a son. She wrapped him in cloths and placed him in a manger, because there was no room for them in the inn."
Mary and Joseph smiled at each other as he wiped the strands of wet hair from her sweaty, tear-stained face, and kissed her forehead. A hint of salt upon his lips and in her arms, a beautiful son whom he'd named Jesus, just as the angel told him. He marveled at the event … this amazing child who looked so average.
Who would ever believe this happened?
***
Their Story, Your Story:
No two people will ever experience what Joseph and Mary did. This moment of Christ's birth redefined miraculous. In what ways did it lift miraculous to a whole new level?

What distinguishes this birth event from all other human births? What about a virgin birth would be important to the story of salvation?

Every birth is a miracle in a sense. When you stop to think about a man and a woman coming together and what starts as a fertilized egg in one moment changes as a process unfolds in which the baby develops a spine and lungs and has a heartbeat. In what sense is this miraculous, too? What makes it casual, almost a given?

What types of events heighten a precious view of the miracle

of a safe, healthy pregnancy and childbirth to living, healthy babies?

Was childbirth dangerous in times prior to modern medicine?
Self-Reflection topic: Miracle of birth
Prayer: Lord Jesus, please give us an elevated view of the sanctity of life in the unborn, a view that upholds the miracle You designed from the beginning. Thank You for the faithfulness of Joseph and Mary, for their patient endurance all the way to Your birth. Thank You for condescending to us in the Incarnation, for stepping down from every privilege and honor, from being the King of kings and Lord of lords to live among us, though we are sinners. It's miraculous that You came as a helpless baby in Your flesh yet You were every bit as divine–at that same moment–as You were when sent. It is too amazing for words that You would do this for us! Your goodness inspires us to praise! Be glorified, Lord! Be exalted, O God!, Be King of our hearts now and forever! Amen.
==
Tomorrow is the last day to receive these Storyteller devotional studies in your email during Advent 2018 by entering your email address on the SeminaryGal.com home page in the space provided in the sidebar. Or "Like" the SeminaryGal Facebook page to access them there. If you like these devotionals, I'd really appreciate your letting others know so I can continue to spread the Good News far and wide. After Advent is over, there will be devotionals from time to time until the next series at Lent. Blessings to you, in Christ always, Barbara <><
===
Acknowledging inquiries about the entire season's devotionals for your study group's planning purposes, Seminary Gal's prior seasons' Advent devotionals can be accessed via the archives to the right and are as follows:
Last year's Advent Devotional Series (2017), Still Christmas, began December 3, 2017 and was the Advent complement to the Lenten series, Be Still and Know that I AM God.
The 2016 season devotionals were called "Timeless: The Message of Christmas for All Ages" and explored how the message of Christmas is timeless truth, for all ages of people, and for all ages at all times. Timeless hope, encouragement, grace, peace, and love as we looked into the Word, saw the face of our Lord Jesus, and experienced restoration in His presence. His goodness and His Gospel are truly Timeless. The 2016 devotionals began November 27, 2016.
The 2015 season devotionals were titled Incarnation and involved digging deep–and yes, I mean deep– in this important mystery of Christian theology. They began November 29, 2015.
Carol Me, Christmas! remains one of my most popular offerings and tells the Christmas story through our most beloved Christmas hymns and carols. You can access all of the numbered devotionals from 2014 via the archives. They began November 30, 2014.
The 2013 series was Emmanuel: When LOVE Showed Up in Person and examined the Prologue to the Gospel of John. It began December 1, 2013.
The 2012 series focused on Expecting the Unexpected…the unexpected, unlikely, and uniquely divine qualities of God's perfect plan outlined in Luke's account of the Christmas story. It began December 1, 2012.