Suffering. It's awfully hard to explain in life. In the wake of the mass shooting in Parkland, Florida, Harvard psychology professor Steven Pinker asked,
Where was God when the mass shooting happened?"
It's as if God doesn't exist, doesn't care, or revels in mass murder. Questions of that sort provide no comfort whatsoever to grieving parents.
Always standing in the dark shadows of every tragedy is that voice of the cruel skeptic, questioning the love of God. The power of God.
The goodness of God. The awareness of God.
Even His existence.
The antagonist's and skeptic's voices are different from the voice of Pi in the movie Life of Pi which we've been using to launch our 2018 Lent Devotional series of Why questions and answers. There is an innocence in his voice which asks, "Why would a god do that? Why would he send his own son to suffer for the sins of ordinary people? …That made no sense. Sacrificing the innocent to atone for the sins of the guilty? What kind of love is that?"
Isaiah 53:10 Yet it was the LORD's will to crush him and cause him to suffer, and though the LORD makes his life a guilt offering, he will see his offspring and prolong his days, and the will of the LORD will prosper in his hand.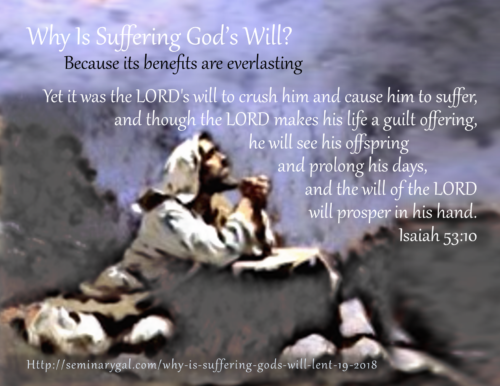 ***
Why was it God's Will for His Son to suffer and die? It's a good question with a good answer: suffering's benefit is everlasting.
"When we were still powerless, Christ died for the ungodly …But God demonstrates his own love for us in this: While we were still sinners, Christ died for us. Since we have now been justified by his blood, how much more shall we be saved from God's wrath through him!" (Romans 5:6, 8-9)
What makes it even more profound is that suffering and death are not God's ultimate will for you and me. They are his means of drawing us close because His will is that we should seek Him and live (Amos 5:4).
Food for thought:
When tragedy strikes, do you blame God?

I choose to believe that in any person's moment just before death, Jesus makes one final appeal in their spirit. Death happens when their spirit is ripped from their body. In the final moments before death, the two criminals on the crosses beside Jesus' offer a picture of the choice God lays before us: do we suffer in order to believe and live…or do we suffer and die in rebellion? I choose to believe that each person at Marjory Stoneman Douglas High School acknowledged Jesus' appeal in their hearts and only God knows their answer. What do you think?
Next time, Why Did God Send His Son Not a Daughter?
==
For Lent 2018, we'll explore the questions of Pi and Chi (the Greek letter beginning the word Christos, which means Christ, Messiah, the Anointed One). We'll ask and answer the question "Why?" as we discover the uniqueness of Jesus Christ. Join me for the 40 days of Lent which began February 14, 2018 by liking Seminary Gal on Facebook or having these devotionals sent to your email box which you can do via the sign-up on my Home page. Thank you for blessing me with this opportunity to study together the Word of God.
===
Acknowledging that former years' devotional series remain popular: