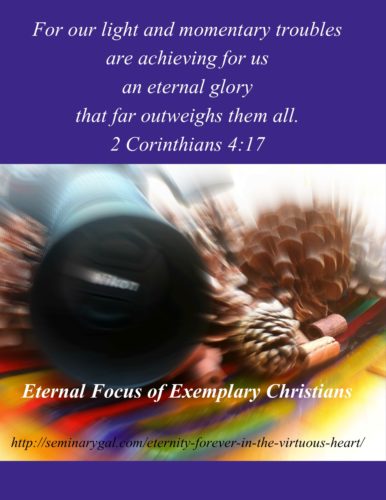 There is a perspective that Exemplary Christians know. It's a view of eternity. Of seeing today in the light of forever. It's not easy to develop this kind of perspective, but it's well worth it. It's a Tiny Virtue in which today melts away and all today's sufferings become "light and momentary" as Paul calls them when they are viewed against the canvas of eternal glory. It's the focus on eternity, forever in the virtuous heart, that becomes like the camera lens centering on future glory while our sufferings become the misty backdrop against which the glory shines.
For our light and momentary troubles are achieving for us an eternal glory that far outweighs them all. (2 Corinthians 4:17)
What kinds of things can we do to develop this eternal view?
Gratitude like the Samaritan had. Luke 17:12 As he was going into a village, ten men who had leprosy met him. They stood at a distance 13 and called out in a loud voice, "Jesus, Master, have pity on us!" 14 When he saw them, he said, "Go, show yourselves to the priests." And as they went, they were cleansed. 15 One of them, when he saw he was healed, came back, praising God in a loud voice. 16 He threw himself at Jesus' feet and thanked him– and he was a Samaritan. 17 Jesus asked, "Were not all ten cleansed? Where are the other nine? 18 Was no one found to return and give praise to God except this foreigner?" 19 Then he said to him, "Rise and go; your faith has made you well."
Prayer and an open heart like displayed by a woman named Lydia (Acts 16:13-15)
Patient bearing of difficulty like the entire Church at Smyrna (Revelation 2:8-11)
Perseverance in doing good and holding tightly to the Truth like the whole Church at Philadelphia (Revelation 3:7-13)
Ponder today: What does your camera's lens focus upon?
Bible character of the day: a healed Samaritan leper