If there was a top 10 list of reasons why people reject Christianity, the idea of its being a "patriarchal religion" would make the top 10, probably even the top 5. No one accuses Jesus of misogyny, but He's been caricatured as not being a manly man anyway. He gently holds lambs and no macho man carries lambs around. The Apostle Paul, however, has that accusation chained to his ankle 24/7 since he picked up a stylus and located a parchment on which to write. Where does this idea come from? Earlier than the letters to the Corinthians. I'd argue its root goes way back…to the Father/Son thing.
Why Did God Send His Son, Not a Daughter?
For that matter, why Adam first and not Eve?
Why does Christianity seem to disfavor women? After all, there are very few heroines in the Bible or women we even know much about.
None of the Twelve.
None of the Books of the Bible were openly written by a woman.
I am a woman and I have no problem with God sending His Son because the world was not and is not a vacuum. We cannot read 21st century ideas back into a first century document. God surely knew what the first century would be like.
Ah, but what came first, Barb-ol-pal?
(The chicken. Genesis 1:20-21)
Anyway, in our present culture where "toxic masculinity" is derided as the singular source of the world's problems, God's answer was to send His Son Jesus, a biological male, the second Adam, to pay for what the first Adam had done. There is some sense in which God is Father and His Son is a chip off the old block. Only His Son could reveal who the Father is. It's representation in addition to having its root in both history and biology. 1 Corinthians 15:47 The first man was of the dust of the earth, the second man from heaven.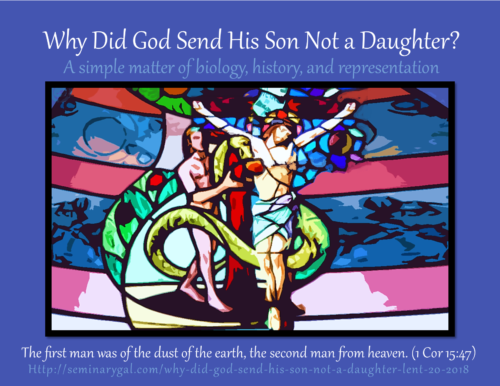 Think about it:
Many American families have children living with the mother who are born from numerous fathers. Do we ever see the converse, children of many mothers living with the father? Why not? How is fatherhood different than motherhood?

As a strong woman, a leader, a thinker, and a believer in God's Image stamped upon both male and female, I'm going to open a whole can of worms and ask "In what ways are cultural notions of things like toxic masculinity, women's empowerment, sexual freedom and political feminism at variance with Scripture and how do they undermine Christianity?"

Biologically speaking, how is born of a woman (Eve was the mother of the living), not the same as a matriarchal religion or a feminist revisionism?

Galatians 4: 4 "But when the time had fully come, God sent his Son, born of a woman, born under law, 5 to redeem those under law, that we might receive the full rights of sons. 6 Because you are sons, God sent the Spirit of his Son into our hearts, the Spirit who calls out, "Abba, Father." 7 So you are no longer a slave, but a son; and since you are a son, God has made you also an heir."

What does sonship have to do with inheritance in the early Bible times? How does reading our culture back into the first century create a disconnect and chip away at Christianity's foundation?
Join me tomorrow for Why Follow?
==
For Lent 2018, we'll explore the questions of Pi and Chi (the Greek letter beginning the word Christos, which means Christ, Messiah, the Anointed One). We'll ask and answer the question "Why?" as we discover the uniqueness of Jesus Christ. Join me for the 40 days of Lent which began February 14, 2018 by liking Seminary Gal on Facebook or having these devotionals sent to your email box which you can do via the sign-up on my Home page. Thank you for blessing me with this opportunity to study together the Word of God.
===
Acknowledging that former years' devotional series remain popular: