We're living in a day and age of "identity politics." A time in which people gather with affinities for those who are like them and pinpoint others by their affiliations. In one sense, this labeling is terribly wrong, making the assumption that everyone who identifies with a certain category, organization, or ethnicity is the same. But in another sense, there's an accuracy where there's true identity. Such is the case with the Image of God.
God's Image is important to Him. Jesus, the Son of God, perfectly is the Image of God. He didn't just display this Image. He radiated and embodied God's Image in all His glory.
The Son is the radiance of God's glory and the exact representation of his being, sustaining all things by his powerful word. (Hebrews 1:3)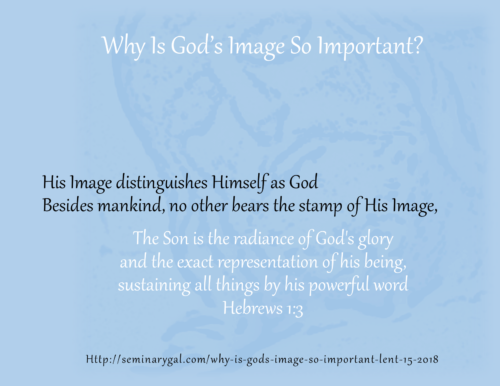 ***
Mankind (Jesus' brothers and sisters in the family of man) bears the Image of God. But there's a difference: Jesus is the Image of God, but we only bear this Image imperfectly on our side of Eden.
Sadly, we have gradually departed from our desire to bear God's Image and to do as Jesus would do. How has this happened? 2 Corinthians 4:4 The god of this age has blinded the minds of unbelievers, so that they cannot see the light of the gospel of the glory of Christ, who is the image of God.
Indeed, we are blinded to our need for God and it expresses itself in a self-reliant rejection of God's gracious offer of salvation in which we grow in Christlikeness. 2 Corinthians 3:17 "Now the Lord is the Spirit, and where the Spirit of the Lord is, there is freedom. 18 And we, who with unveiled faces all reflect the Lord's glory, are being transformed into his likeness with ever-increasing glory, which comes from the Lord, who is the Spirit."
It also clouds our hearts to seeing the humanity of others: the unborn, the unlovely, the sinner, and anyone who believes differently than ourselves.
What do we do instead, even in the Christian community? James 3:9 "With the tongue we praise our Lord and Father, and with it we curse men, who have been made in God's likeness."
One look at our political climate and we see this horror in full-bloom.
Call it Resist or Hate or Trolling, it doesn't matter.
It's wrong because we're failing to see the humanity of others. There are people behind all labels, even the NRA and the anti-gun lobby…
It's a death-trap being conceived in the heart and leads to many atrocities.
Food for thought:
There are many ways this dehumanizing of our fellow man/woman results in willing mistreatment of others. Can you think of a few?

Identify all the ways rejecting the identity of God-follower and Image-bearer results in rebellion against God and hatred of our fellow man in

2 Timothy 3:1 But mark this: There will be terrible times in the last days. 2 People will be lovers of themselves, lovers of money, boastful, proud, abusive, disobedient to their parents, ungrateful, unholy, 3 without love, unforgiving, slanderous, without self-control, brutal, not lovers of the good, 4 treacherous, rash, conceited, lovers of pleasure rather than lovers of God– 5 having a form of godliness but denying its power. Have nothing to do with them. 6 They are the kind who worm their way into homes and gain control over weak-willed women, who are loaded down with sins and are swayed by all kinds of evil desires, 7 always learning but never able to acknowledge the truth.

What are we doing when we mistreat others who are not like us?

Matthew 25:40 "And the King will answer and say to them, 'Truly I say to you, to the extent that you did it to one of these brothers of Mine, even the least of them, you did it to Me.'

Are there any ways you need to repent of rebelling against the Image of God in Jesus Christ and against His Image, broken and needing restoration, in yourself?

In the Life of Pi which we've been using as our launchpad for 40 questions "Why?" the priest suggests that Jesus is someone with whose sufferings we can identify as with a brother's. How does God's Image perfectly shown in the sufferings of the Son of Man call us back to Himself?
Join me tomorrow for "Why Didn't Jesus Just Appear to All Without His Body?"
==
For Lent 2018, we'll explore the questions of Pi and Chi (the Greek letter beginning the word Christos, which means Christ, Messiah, the Anointed One). We'll ask and answer the question "Why?" as we discover the uniqueness of Jesus Christ. Join me for the 40 days of Lent which began February 14, 2018 by liking Seminary Gal on Facebook or having these devotionals sent to your email box which you can do via the sign-up on my Home page. Thank you for blessing me with this opportunity to study together the Word of God.
===
Acknowledging that former years' devotional series remain popular: