One of the distinct upsides of being still is that it inspires praise. When we're alone with God and are aware of His presence, it reminds us He is real. There's one response that flows naturally: praise! Alone with God is a great place to be as we remember why a Still Christmas is a blessed Christmas!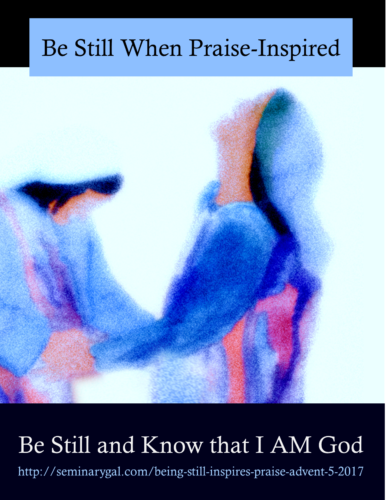 The truth is God's presence never vanishes from this earth. Why does He seem to be so far away then? I'd argue that it's us. We just choose not to see Him. We choose to overlook Him. We choose to push Him out of the way in our efforts to control our destiny, get what we want, and pursue our dreams.
Not so with Mary's cousin Elizabeth. She'd been in a place of awe since she discovered she was pregnant, at her age, and with her husband having suddenly lost his voice (and who knows what kind of blessing that might have been!) She'd long ago given up control of her destiny. Now she was in a place of stillness to ponder life and see what is spiritual in her midst. Mary comes in and greets her.
Luke 1:41 When Elizabeth heard Mary's greeting, the baby leaped in her womb, and Elizabeth was filled with the Holy Spirit. 42 In a loud voice she exclaimed: "Blessed are you among women, and blessed is the child you will bear! 43 But why am I so favored, that the mother of my Lord should come to me? 44 As soon as the sound of your greeting reached my ears, the baby in my womb leaped for joy. 45 Blessed is she who has believed that what the Lord has said to her will be accomplished!"
In that place of stillness, she could easily see God's activity in her life and recognize His working in the life of others. The Holy Spirit took over and He did what He always does: He inspires faith and praise!
* * *
Be Still, Elizabeth. Your inspired praise will be recorded in My Word for all eternity!
Be Still. Stay the course and you will witness greater things than these.
Be Still and Know that I AM God. I am the worker of miracles and the Giver of life.
Be Still and Know that I AM God. I AM at work in ways you do not know, but you will see when you are still and willing to watch and listen. John 5:19 Jesus gave them this answer: "I tell you the truth, the Son can do nothing by himself; he can do only what he sees his Father doing, because whatever the Father does the Son also does. 20 For the Father loves the Son and shows him all he does. Yes, to your amazement he will show him even greater things than these. 21 For just as the Father raises the dead and gives them life, even so the Son gives life to whom he is pleased to give it. 22 Moreover, the Father judges no one, but has entrusted all judgment to the Son, 23 that all may honor the Son just as they honor the Father. He who does not honor the Son does not honor the Father, who sent him. 24 "I tell you the truth, whoever hears my word and believes him who sent me has eternal life and will not be condemned; he has crossed over from death to life. 25 I tell you the truth, a time is coming and has now come when the dead will hear the voice of the Son of God and those who hear will live."
Questions for Reflection:
How responsive are you to the Holy Spirit's inspiring praise in your everyday?

What about at church? Is it just the meat and potatoes of a Sunday sermon bringing you to church, a sense of obligation, a comfortable club of friends, or do you arrive expecting to encounter the Holy Spirit and have praise well up in your heart?

What inspires praise of God in your life? If nothing, is there something you might be overlooking? What can you do to get alone with God?

What does praise look like … does it always look like charismatic hands-raised and outwardly visible? What did the quiet place and experience of hearing from God look like in Elijah's life (1 Kings 19:9-18)?

How is it possible to experience stillness and praise at the same time?
===
Still Christmas, Advent 2017 Devotionals began December 3, 2017 and are archived from that date.