It can be hard to accept stillness. To be still when you know you should be. To remain silent when silence is best. To restrain oneself by an act of the will or by distance if you simply fear that the will is susceptible to weakness.
As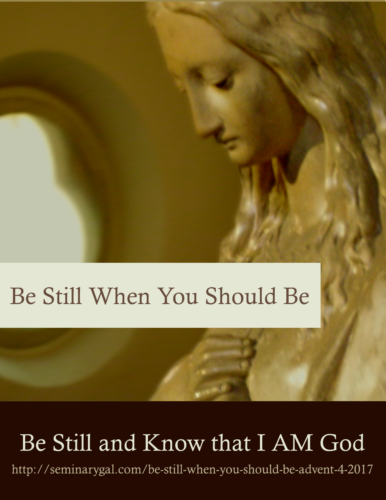 we continue our look at the Christmas narrative and explore stillness in our Advent Devotional 2017 series Still Christmas, let's look at Mary's response.
By and large, I think that humanity…oh, we are a restless sort! Had Mary been alive now, the temptations would have been legion. Tweeting about your angelic encounter in 140 characters or less. Posting your Facebook status as "Mary of Nazareth—feeling confused…well, how would you feel if God told you that you'd give birth to His Son?" All your friends doing sad, angry, or wow emoticons and then getting in a huge friend-fight over whether your status is fake news and if you're just trying to get attention. Instagram: before and documenting pregnancy pix.
Even in Mary's day, there would have been temptations to talk about it with people she shouldn't. People who cast doubt and send judgments her direction. Maybe even her own family.
Here's what Mary did to remain still when her world was just ripped out from beneath her feet:
Luke 1:39 At that time Mary got ready and hurried to a town in the hill country of Judea, 40 where she entered Zechariah's home and greeted Elizabeth.
Elizabeth would be proof that what God told her was true. Mary steps out in faith and away from the doubters. She takes refuge with Zechariah and Elizabeth. Scripture indicates this was a sudden decision and a rapid exit to get to their home.
She would be safe there.
Safe from judgment.
Safe from doubters.
Safe from second-guessing.
Safe from trying to explain things before their proper time.
* * *
Be Still, Mary. Elizabeth is pregnant just like I told you. She'll understand.
Be Still, Mary. You'll be safe here among relatives who have been as surprised as you. They'll be a safe place to process what is happening. I know these things are too much for you alone.
Be Still and Know that I AM God. Just as I provided for Elijah with bread from ravens and safety in the wilderness (1 Kings 17), I have provided Elizabeth to nourish your soul and give you safety in the hill country while My plan unfolds.
Be Still and Know that I AM God. I will overlook no detail in providing everything for you in due time. I will pave the way for Joseph's understanding Myself. For now, dear Mary, just find rest here. Reflect as the psalmist did, and know deeply the fullness of rest I give. Psalm 91:1 He who dwells in the shelter of the Most High will rest in the shadow of the Almighty. 2 I will say of the LORD, "He is my refuge and my fortress, my God, in whom I trust."
Questions for Reflection:
Have you ever known a secret that you promised not to tell? How hard was it to keep from telling the secret?

Consider Mark 1:44-45. Did the leper remain silent and still? What was the result?
How hard is it to place trust in others to reveal the information when and if the time comes? Read Matthew 17–Jesus has been transfigured before His disciples. He tells them not to tell anyone until after He was raised from the dead. Why might that be?

What are some factors making it harder to stay still? What self-interests might be at play?

Do you think this is more of a modern problem, like with leaks to the press or violating security clearances, etc.? What about in your own life? Is there anything in a communication culture making it harder to Be Still When You Should Be?
===
Still Christmas, Advent 2017 Devotionals began December 3, 2017 and are archived from that date.