Now the tax collectors and "sinners" were all gathering around to hear him.  But the Pharisees and the teachers of the law muttered, "This man welcomes sinners and eats with them."  Then Jesus told them this parable:  "Suppose one of you has a hundred sheep and loses one of them. Does he not leave the ninety-nine in the open country and go after the lost sheep until he finds it?  And when he finds it, he joyfully puts it on his shoulders  and goes home. Then he calls his friends and neighbors together and says, 'Rejoice with me; I have found my lost sheep.'  I tell you that in the same way there will be more rejoicing in heaven over one sinner who repents than over ninety-nine righteous persons who do not need to repent" (Luke 15:1-7, NIV).
I love this Discipleship Lesson: Reap a Harvest of Joy.  As a person who has been through my share of stuff and has daily reminders of my sin nature, passages like today's always bring me a Harvest of Joy.  For those of you familiar with this Scripture and the two stories that follow it in the Bible, we're about to see Joy in the Lost and Found three times over.
Jesus is surrounded by tax collectors and "sinners."  If you stop to think about it, even the Pharisees and the teachers of the law gathered there, they were all sinners.  Jesus was the only sinless one of the bunch.
In Jesus' midst were those who understood the truth about sin and those who did not. 
Jesus and the tax collectors/sinners understood that all of mankind falls into the sinner camp.  Only Jesus, the Son of God, was sinless.  The Pharisees and the teachers of the law saw themselves as righteous and Jesus as welcoming sinners and therefore being polluted.  It's why they muttered.  They were grumbling and grouchy and wanted to find fault and take Jesus down a notch, or take Him down, period.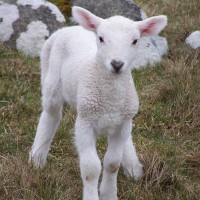 Jesus tells the parable of the Lost Sheep.  This is one of my favorite parables because of the way He speaks of the shepherd's (indeed the Good Shepherd's) relentless search for those who are lost.  And when the shepherd finds it, joyfully putting it on his shoulders saying,
Rejoice with me; I have found my lost sheep."
To know that there was rejoicing in heaven when I repented of my sin, to even think of Jesus' joy at finding me (though I was lost and totally undeserving of anything) and yet, to be reminded of the magnitude of Jesus' love for the lost–it is simply amazing!
There aren't words to say it any better than this parable…
For further thought:
Have you been found by Him?  If yes—then thank Him and praise Him today.
Are you still lost in your sin, thinking of yourself as righteous?  See the love of God present in this parable, repent of your sin, and hear the angels sing as you experience the loving touch of the Good Shepherd and Reap a Harvest of Joy as one who was lost and now is found.