One look at our world of social media and we can easily conclude no one really wants to give up their 15 minutes of fame in order to experience stillness. People craft ways of going viral and unfortunately, they are not only legion in number but way too often Legion in origin (Luke 8:26-37). Much of the worst (live-streamed murder, etc.) seems to have subsided, gone underground, or maybe site moderation has developed a stricter code (which is its own issue, preferable to live-streamed sin). Yet celebrity, or the hope of it, lurks around every corner.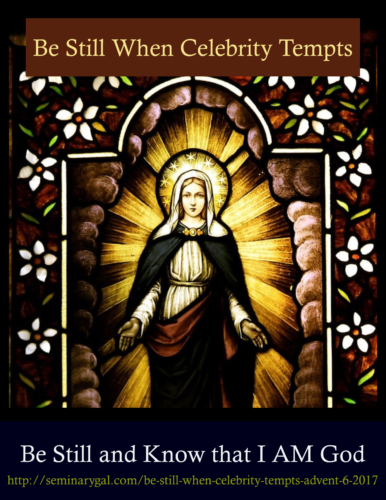 As we continue our look at Still Christmas, it's worth our while to see how to Be Still When Celebrity Tempts.
It's easy to take Bible stories and make cardboard cutout versions of humanity, or gild people with superhuman qualities and put them on a pedestal. We do ourselves a disservice when we do that. Or worse, it becomes idolatry. Yet, there are things we can learn about godly living by seeing how those before us have dealt with temptations.
Mary surely knew the temptation to claim celebrity, but she resisted it and was blessed for it.
Importantly, she turned her praise upward instead of inward. She didn't look at herself. She looked to God. She reminded herself of God's supremacy and her humble state apart from Him.
Luke 1:46 And Mary said: "My soul glorifies the Lord 47 and my spirit rejoices in God my Savior, 48 for he has been mindful of the humble state of his servant. From now on all generations will call me blessed, 49 for the Mighty One has done great things for me– holy is his name. 50 His mercy extends to those who fear him, from generation to generation. 51 He has performed mighty deeds with his arm; he has scattered those who are proud in their inmost thoughts. 52 He has brought down rulers from their thrones but has lifted up the humble. 53 He has filled the hungry with good things but has sent the rich away empty. 54 He has helped his servant Israel, remembering to be merciful 55 to Abraham and his descendants forever, even as he said to our fathers."
If God has chosen to do good to her and for her, it's because of who He is and not what she was.
* * *
Be Still, Mary. I chose you because your heart humbly looks to Me.
Be Still. Generations will call you blessed and you are… because you know the difference between receiving blessing and being the ultimate source of it.
Be Still and Know that I AM God. Let your hope and confidence be in Me. About My Son Jesus, the Bible says, Acts 4:12 "Salvation is found in no one else, for there is no other name under heaven given to men by which we must be saved."

Be Still and Know that I AM God. My mercy is better than any celebrity.
Questions for Reflection:
Pause for a moment and think about celebrity. Do you wish you were famous, even for a minute?

Many Roman Catholics I know are concerned about the blurring of veneration of the Virgin Mary as Jesus' mother to Mary-worship in some areas of the world. Based upon the Magnificat (Mary's song from above), why do you think worship of Mary would be thoroughly rejected by Mary herself?
Read

Psalm 145:13 Your kingdom is an everlasting kingdom, and your dominion endures through all generations. The LORD is faithful to all his promises and loving toward all he has made. 14 The LORD upholds all those who fall and lifts up all who are bowed down. 15 The eyes of all look to you, and you give them their food at the proper time. 16 You open your hand and satisfy the desires of every living thing. 17 The LORD is righteous in all his ways and loving toward all he has made. 18 The LORD is near to all who call on him, to all who call on him in truth. 19 He fulfills the desires of those who fear him; he hears their cry and saves them.

How does knowledge of who God is correct any desire we might have for celebrity?

What characteristics are noteworthy of celebrity?

Compare those to the characteristics of God in this passage.

Habakkuk 3:2 LORD, I have heard of your fame; I stand in awe of your deeds, O LORD. Renew them in our day, in our time make them known; in wrath remember mercy.
===
Still Christmas, Advent 2017 Devotionals began December 3, 2017 and are archived from that date.