Perhaps now is a good time to admit that the Church is not a magic potion for Resurgence. Sit in a pew taking Communion and problems of racial strife just disappear? Sorry, I live in the real world in which church attendance doesn't substitute for a changed heart. In the real world, the Christian Church is losing its significance for many people. Studies show those with no religious affiliation are the fastest growing group but Islam is surging in America and worldwide and by 2050 is expected to surpass Christianity as the world's largest religious group. It's time we woke up to the problems of a Politicized Church and what it means for the Christian faith, and what it means to Resurgence.
It's a strange calling, to stand on a virtual soapbox at the crossroad of culture and faith and do my best to speak into both. This calling is what prompts me to conclude that "Politicized Church" is a two word problem that covers the entire racial and geographical spectrum. And it's precisely the Politicized Church that is killing Christianity. Consider these words from Dr. Eddie S. Glaude, the Chair of the Department of African American Studies at Princeton University. As a result of his studies, he concluded,
"The Black Church, as we've known it or imagined it, is dead. Of course, many African Americans still go to church… But the idea of this venerable institution as central to black life and as a repository for the social and moral conscience of the nation has all but disappeared."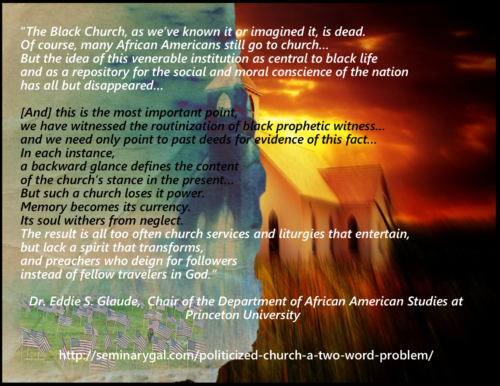 The profundity of this can't be overstated.
The Black Church once elevated men and women from slavery to children of God status, but now has suffered along with the black family as our solutions have shifted from God to government. Make no mistake. It's connected.
Glaude's reasons for the demise of the Black Church are these:
"First, black churches have always been complicated spaces. …
Second, African American communities are much more differentiated. The idea of a black church standing at the center of all that takes place in a community has long since passed away…black religious institutions and beliefs stand alongside a number of other vibrant non-religious institutions and beliefs. Moreover, we are witnessing an increase in the numbers of African Americans attending [other] churches… non-denominational congregations [which] often "sound" a lot like black churches…
Thirdly, and this is the most important point, we have witnessed the routinization of black prophetic witness….and we need only point to past deeds for evidence of this fact…In each instance, a backward glance defines the content of the church's stance in the present…But such a church loses it power. Memory becomes its currency. Its soul withers from neglect. The result is all too often church services and liturgies that entertain, but lack a spirit that transforms, and preachers who deign for followers instead of fellow travelers in God."
Benjamin Watson notes this in his own way (the difference between Resurgence which is forward looking to tomorrow's history-makers versus a backward looking memory and soul withering) when he writes,
"Black lives DON'T matter when the only time we learn about black heritage is black history month. And even then the same characters are paraded, as great and important as they are, as if they are all we have to be proud of. A people who don't know their history, lack identity, and consequently, a positive self concept. Ancient and modern history, religious and secular, is riddled with contributions by Africans and blacks, but are many times only discovered through personal investigation outside of traditional academia."
It's why I began this series not even thinking about Black History Month. I see God working Resurgence even as Glaude sees clearly that "Black America stands at the precipice. African American unemployment is at its highest in 25 years. Thirty-five percent of our children live in poor families. Inadequate healthcare, rampant incarceration, home foreclosures, and a general sense of helplessness overwhelm many of our fellows. Of course, countless local black churches around the country are working diligently to address these problems."
Reading his paper carefully, however, what these churches are pursuing as his solution is rebirth to a re-engaged Politicized Church, not the Gospel.
Not everyone sees a Politicized Church as a good thing, or even an effective one politically. Charles Blain, contributor at the Hill writes,
"But directives pushed from the pulpit on Sunday mornings don't necessarily translate into votes at the polls any more. The ability to mobilize millions of black American voters — the source of their political might — began during the civil rights era…[and unless] more leaders in the black church recognize that blindly supporting one party, which has done nothing to earn that support, is not benefiting those that they serve, the church will continue to lose its political influence."
And I'd argue that political influence is the very thing which has been corrosive to the Black Church, the black family, and the black community in the same way as it does for any church choosing to be a Politicized Church over one that keeps the Gospel central.
This of course is nothing new. (Galatians 1:6-12). So let us be like the Apostle Paul who was very careful about the Gospel that saves. Our churches can do as Paul did:
For I determined to know nothing among you except Jesus Christ,

and Him crucified. (

1 Corinthians 2:2)
Let's resolve to do the same. We'll all be a lot better off.
===
The full Resurgence Series was devoted to highlighting the extraordinary efforts of black men to elevate the black community and included:
http://seminarygal.com/steve-harvey-and-black-manhoods-resurgence/

http://seminarygal.com/steve-harvey-resurgence-and-faith/

http://seminarygal.com/supreme-court-justice-clarence-thomas-and-resurgence/

http://seminarygal.com/benjamin-carson-on-success-and-resurgence/

http://seminarygal.com/jim-brown-and-black-resurgence/

http://seminarygal.com/shelby-steele-resurgence-and-political-correctness/

http://seminarygal.com/walter-williams-and-the-resurgent-solution/

http://seminarygal.com/resurgent-man-jason-riley-analyzes-the-problem/

http://seminarygal.com/resurgent-man-benjamin-watson-values-life/

http://seminarygal.com/politicized-church-a-two-word-problem/

http://seminarygal.com/resurgent-solutions-of-guiding-and-mentoring/