Luke 17:1 Jesus said to his disciples: "Things that cause people to sin are bound to come, but woe to that person through whom they come. 2 It would be better for him to be thrown into the sea with a millstone tied around his neck than for him to cause one of these little ones to sin. 3 So watch yourselves. "If your brother sins, rebuke him, and if he repents, forgive him. 4 If he sins against you seven times in a day, and seven times comes back to you and says, 'I repent,' forgive him." 5 The apostles said to the Lord, "Increase our faith!" 6 He replied, "If you have faith as small as a mustard seed, you can say to this mulberry tree, 'Be uprooted and planted in the sea,' and it will obey you. "
Isn't it interesting that the apostles cry out to Jesus, "Increase our faith!" as it relates to forgiving people over and over?
This whole business of living as a Christian in a majority non-Christian world is enough to make me want to have an increased faith. We're assaulted every day with reasons to give up and throw in the towel–in our ignorance and faithlessness simply to decide it's not worth it.
But it is worth it. Increase my faith! Rekindle it!
Jesus says this mustard seed thing and I struggle not to see it as magic. That if I believe enough, I can do magic tricks of uprooting trees and moving mountains. What power! What control! What nonsense.
That's not the point Jesus is making. The point Jesus is making is that tiny faith in a great God–in the One who created this earth to begin with—can still be a powerful faith! The outcome is not a result of my power and my control, but His. If I'm praying in His will and believing in such a God to work wonders, is anything too hard for Him?
Give it up for Lent: contentment with a watered down faith
Questions for Luke 17:1-6:
How realistic is Jesus about the heart-condition of this world? What part is natural (a function of this world) and what part is man-made?
How dire are the consequences of leading others into sin?
What are we supposed to do when someone is sinning? Is repentance automatic?
In the context of forgiveness, how is genuine faith as small as a mustard seed profound in its consequences?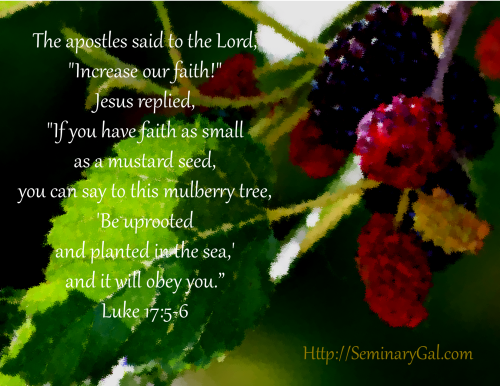 ReKindle is the 2016 Lenten devotional series from Seminary Gal.
To receive these devotionals to your email inbox throughout Lent, please fill in your email address in the space provided on my Home Page in the sidebar (right) and respond to the verification email.  If you already receive devotionals and articles, no need to do anything else.  You'll get them automatically.  Thank you!  Or log onto the SeminaryGal Facebook page and see them reprinted there.
Acknowledging that former years' devotional series remain popular, Be Still and Know that I AM God can be obtained through the archives beginning in March 2014 and With Christ in the Upper Room  is archived beginning February 18, 2015.