Regardless of how one feels about the presidency over the last 8 years, it will be one for the history books. A notable legacy. Had President Barack Obama done nothing but be a black man in the White House and occupy the Oval Office for 8 years as US President…
Had he added no jobs nor lost any…
Had he added not a penny to the national debt even if no reduction…
Had he caused no benefit and no harm…
Had he presided over a military that fought no wars and lost no lives…
Had crime rates remained the same in every place and health care plans been unchanged for all who previously had them…
Add to the imaginary list as you will…
He'd still have a notable legacy. One that no one could take away from him. No one could or would undo it. Think about this: if nothing changed at all during the past 8 years, the history books would record his presidency as remarkable, even miraculous in the stability. He would be cheered as an historic first, re-elected too! And then the history books – in our imaginary world – would add this glorious notation: he presided over a long stretch of stability, going down in history as someone to whom the world turned for leadership and a wise, fixed, and stable center point of freedom in times of global chaos, terror, and tyranny.
That's if he had done nothing.
Yet this historic first remains no matter how much creative revision occurs to craft a legacy or pioneering legislation threatens to undo it.
A legacy is like tree rings revealing good years and bad years, abundance and drought.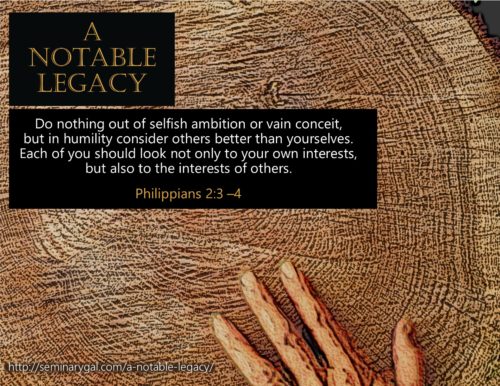 For a notable legacy of the things we have done, the Bible gives good advice on how each of us can do it better, to have a legacy no one would want to erase:
Philippians 2:1 If you have any encouragement from being united with Christ, if any comfort from his love, if any fellowship with the Spirit, if any tenderness and compassion, 2 then make my joy complete by being like-minded, having the same love, being one in spirit and purpose. 3 Do nothing out of selfish ambition or vain conceit, but in humility consider others better than yourselves. 4 Each of you should look not only to your own interests, but also to the interests of others. 5 Your attitude should be the same as that of Christ Jesus.
There are people who have graced this earth whose attitudes of serving others endure as their notable legacies. Mother Teresa–her beautiful legacy was helping the poor. No one wishes to undo her legacy of love and charity even if they still find flaws in her doctrine and implementation. Apart from Jesus, no one is perfect.
Pope John Paul II. Does anyone want to undo all of his legacy in order to excise the parts which they find questionable, such as kissing a Koran?
What about Abraham Lincoln? Yup. There are people out there who say he doesn't deserve to be known as such a good president. Yet his legacy is what it is. He was president at a time in US history that presented unique challenges. His legacy cannot be stripped from the context just like no segment can be removed from the tree ring without its absence being noticed.
I'm not famous. No one particularly cares what my legacy will be, outside of my own family perhaps…with the emphasis on perhaps. But I'll have a legacy. One that God cares deeply about.
What about you? Is your legacy something anyone (including yourself) would want to undo? Is it marked by humility or could it branded as selfish ambition and vain conceit? Is it one of love and service? Is your attitude the same as Christ Jesus'? That's what matters to God and marks your time on earth as a truly notable legacy.