Most of us are unprepared to be betrayed. We probably all feel it at some point in our lives. People we trust go behind our backs. People we think are friends turn out to be enemies. People we love who do the worst of the worst to us.
As we continue our series Pi and Chi, Asking and Answering Questions Why, we can see that betrayal is what Pi experienced in the cook (whose identity was the hyena in his animal story) killing the sailor (the injured zebra) to use him for fish bait. The sacrifice of one to save others. But the sailor wasn't willing. He wasn't willing to be betrayed. He wasn't willing to die sacrificially.
Jesus was.
It was meltdown time. Jesus tells the disciples He's going to be betrayed. They ought to be grieving for how their Teacher is going to be treated. But what do they do? Ignore everything Jesus just said and secretly look instead to get a leg up on their fellow disciples. Betrayals come in many sizes, both large and small.
Matthew 20:17 Now as Jesus was going up to Jerusalem, he took the twelve disciples aside and said to them, 18 "We are going up to Jerusalem, and the Son of Man will be betrayed to the chief priests and the teachers of the law. They will condemn him to death 19 and will turn him over to the Gentiles to be mocked and flogged and crucified. On the third day he will be raised to life!" 20 Then the mother of Zebedee's sons came to Jesus with her sons and, kneeling down, asked a favor of him. 21 "What is it you want?" he asked. She said, "Grant that one of these two sons of mine may sit at your right and the other at your left in your kingdom." 22 "You don't know what you are asking," Jesus said to them. "Can you drink the cup I am going to drink?" "We can," they answered. 23 Jesus said to them, "You will indeed drink from my cup, but to sit at my right or left is not for me to grant. These places belong to those for whom they have been prepared by my Father." 24 When the ten heard about this, they were indignant with the two brothers. 25 Jesus called them together and said, "You know that the rulers of the Gentiles lord it over them, and their high officials exercise authority over them. 26 Not so with you. Instead, whoever wants to become great among you must be your servant, 27 and whoever wants to be first must be your slave– 28 just as the Son of Man did not come to be served, but to serve, and to give his life as a ransom for many."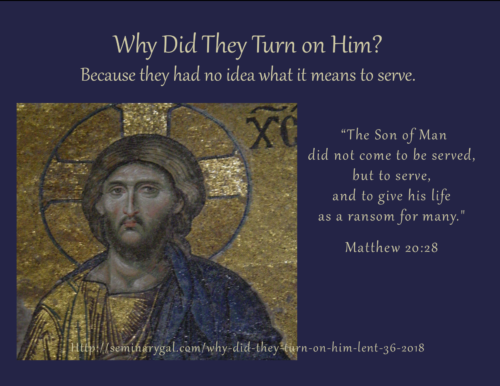 Why Did They Turn on Him? Because they had no idea what it means to serve.
Food for thought:
In thinking over instances where you've been betrayed, how did you react? See Matthew 5:44-48.

Have you ever betrayed someone?

Has it ever been brought to light and if so, how did you respond?

If your betrayal of someone has never been reconciled, what actions can you take today? For insight, Read Matthew 5:21-26
==
For Lent 2018, we'll explore the questions of Pi and Chi (the Greek letter beginning the word Christos, which means Christ, Messiah, the Anointed One). We'll ask and answer the question "Why?" as we discover the uniqueness of Jesus Christ. Join me for the 40 days of Lent which began February 14, 2018 by liking Seminary Gal on Facebook or having these devotionals sent to your email box which you can do via the sign-up on my Home page. Thank you for blessing me with this opportunity to study together the Word of God.
===
Acknowledging that former years' devotional series remain popular: