To the neighbors, friends, co-workers, pastors, rabbis, and priests.  Thank you for the work you will be doing of ministering hope to those suffering.  I appreciated the loving concern of so many people when we were suffering.  From the woman who said, "I didn't know what to say, so I brought ham" and brought a rare chuckle to my heart…to the friends who just let me cry and talk without judging me, each person served to foster healing in some way.  Most were very helpful, even those who withdrew from my acquaintance for a time because they didn't know what to say. 
Better to be silent than to say unintentionally hurtful things. 
 (To assist you in saying helpful things, right now is not the time for theology lessons from Calvin or how evolutionary theory turns everyone to dust.  It's not the place for talking about your parakeet or dog that died.  Do not insist on informing the grieving parents that they're still young and can have other children.  None of those will be helpful.  Pastors, this is especially for you.  I heard absolutely awful things about Satan taking my daughter or God taking her so something worse wouldn't happen–all because of a misguided pastoral desire to protect God.  Frankly, He's big enough to deal with this without your help.  He welcomes our anger…even that directed at Him for a time.  He's in the redemption business and has a better idea of how to turn this special type of anger into something beautiful.) 
One of the lessons I learned was to sort the words spoken into words of life and words to forgive since no one really knows what to say at times like this.  Most of the time silence is golden and it's best just to listen.
I asked a good friend of mine to be an information source for others so I wouldn't have to keep saying the same thing over and over.  It's not gossip if I asked someone to do this for my benefit.  If you're an especially good friend of someone, ask if they'd like for you to help keep their periphery sacrosanct so they can have privacy while they grieve.  If they just decide not to answer the door or the phone, the important thing is that they have the freedom to grieve the way they'd find most helpful.
In time, a sense of routine will return to the community and when the reporters have gone on to the next tragedy (which they will), the silence will be at the same time welcome and deafening, begging to be filled by something.  A card in the mail a month or two down the road saying, "I love you and am continuing to pray for you" can be just the encouragement needed.  I have a friend who has faithfully remembered the anniversary of our family's grief every year for 14 years.  That kind of love is priceless. 
I would also encourage you as friends and religious leaders to consider how your words of hope can carry those grieving through a difficult holiday season this year and in the years to come.  My family's loss occurred 3 days before Christmas in 1998, therefore it's an annual reminder in addition to a holiday season for each member of our family.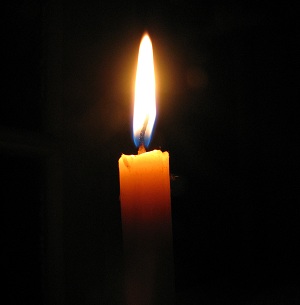 For those in Newtown, the holidays each year will bring a mix of memories:  of tragedy's dark backdrop against which we see the light of heavenly hope and we trust in a future in which all things will be made right.  Not at all unlike the Bible story itself in which hope always has the last best word.
Would a prayer encourage you as you encourage others? Please turn to page 3.