There are a few things in the Bible that I always kind of wish weren't there. They're hard to understand and their truth value (while profound) just makes Christianity kind of unpopular. For example take Jesus, our Prince of Peace, saying,
Do not suppose that I have come to bring peace to the earth. I did not come to bring peace, but a sword." (Matthew 10:34)
Ouch, Jesus. Really? Oh wait, it gets worse: Matthew 10: 35 For I have come to turn "'a man against his father, a daughter against her mother, a daughter-in-law against her mother-in-law– 36 a man's enemies will be the members of his own household.' 37 "Anyone who loves his father or mother more than me is not worthy of me; anyone who loves his son or daughter more than me is not worthy of me; 38 and anyone who does not take his cross and follow me is not worthy of me.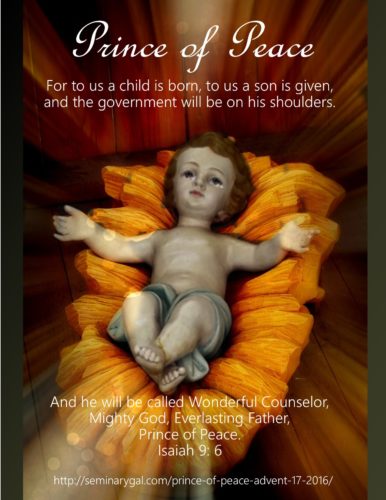 Peace is not so easily achieved as compromise or negotiation. Being nice and picking your battles carefully while you end up choosing none. Deciding in the end that nothing is actually worth fighting. Thankfully, God didn't. That's why He sent His Son. The Prince of Peace.
There are a few hot spots in the world that haven't seen peace in so long, they probably have forgotten what it might even look like. Jerusalem is divided. The Middle East is divided. The East and West are divided. North and South Korea are divided and so are certain parts of North and South US if you get down to it. Division happens even when the country is called United something.
Lasting peace is peace with God, and it unites us on a common path because genuine peace only comes one way: The Prince of Peace.
Jesus said to him, 'I am the way, and the truth, and the life; no one comes to the Father, but through Me.'" (John 14:6 )
Reflect on Jesus' words above and how Timeless peace is not compromise and diversity, but is one narrow way and comes at a huge cost and that's why He's called the Prince of Peace.
Now reflect upon the role of the Prince of Peace as you read again Isaiah 9: 6 For to us a child is born, to us a son is given, and the government will be on his shoulders. And he will be called Wonderful Counselor, Mighty God, Everlasting Father, Prince of Peace. 7 Of the increase of his government and peace there will be no end. He will reign on David's throne and over his kingdom, establishing and upholding it with justice and righteousness from that time on and forever. The zeal of the LORD Almighty will accomplish this.
===
Join me for Advent 2016 Devotionals called Timeless: the Message of Christmas for All Ages beginning November 27, 2106. Timeless hope, encouragement, grace, peace, and love will be ours as we look into the Word, see the face of our Lord Jesus, and experience restoration in His presence. His goodness and His Gospel are truly Timeless.
Advent began November 27, 2016. If you're already signed up on my Home Page sidebar to receive posts, you'll get the Advent devotionals automatically. If you haven't signed up, today is a great day to do so. Advent and Lenten devotionals remain among my most popular offerings. You don't want to miss this great way to prepare your heart for the true meaning of Christmas!