Luke 19:28 After Jesus had said this, he went on ahead, going up to Jerusalem. 29 As he approached Bethphage and Bethany at the hill called the Mount of Olives, he sent two of his disciples, saying to them, 30 "Go to the village ahead of you, and as you enter it, you will find a colt tied there, which no one has ever ridden. Untie it and bring it here. 31 If anyone asks you, 'Why are you untying it?' tell him, 'The Lord needs it.'" 32 Those who were sent ahead went and found it just as he had told them. 33 As they were untying the colt, its owners asked them, "Why are you untying the colt?" 34 They replied, "The Lord needs it." 35 They brought it to Jesus, threw their cloaks on the colt and put Jesus on it. 36 As he went along, people spread their cloaks on the road. 37 When he came near the place where the road goes down the Mount of Olives, the whole crowd of disciples began joyfully to praise God in loud voices for all the miracles they had seen: 38 "Blessed is the king who comes in the name of the Lord!" "Peace in heaven and glory in the highest!" 39 Some of the Pharisees in the crowd said to Jesus, "Teacher, rebuke your disciples!" 40 "I tell you," he replied, "if they keep quiet, the stones will cry out."  (NIV)
Shalom, Simple Shalom—this was the discipleship lesson of our twelfth Song of Ascents. 
Jesus modeled it.
I can't even begin to imagine the dread I would have felt knowing what was ahead if I had been in Jesus' sandals.  I dread bad things and I even dread good things.  I dread parties where I don't know many people.  I dread going to unfamiliar places.  I dread overseas travel.  When I worked at Home Depot, I used to dread the first Saturday of each month because that's when we'd have the children's workshops.  OK, maybe there was some legitimate reason to dread being taken away from the work needing to be done and being placed in charge of supervising many small children with hammers.  (I think I had nightmares about that one.)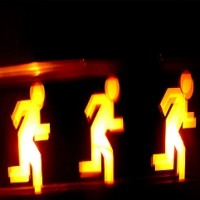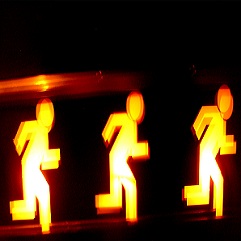 I may be a great big dread head, dreading both the good and also the bad.  I'm not sure why I routinely do this, but one thing is for sure: it displays a significant lack of trust in what God is doing.
Here, in Luke, Jesus shows us how Simple Shalom is done.  The plan is to go to Jerusalem and have all the sins of mankind piled on you.  You'll carry them all to a cross where you'll die a painful death as a demonstration of God's great love for mankind. 
My reaction would have been … "Really??"    Or maybe,  "Ugh!!"      Or perhaps, "I want to run away."
Jesus embraced it because He knew Shalom, Simple Shalom. 
His life was in God's hands and He trusted God, plain and simple. 
Jesus trusted God with the provisions needed.  He let God worry about the reactions of a crowd which today shouts "Hosanna" but soon will shout "Crucify him!"  He let God deal with the Pharisees.  And if God wanted the rocks to cry out instead, He'd trust God to make it all work out.
Jesus modeled what humbly trusting in God looks like.  It looks like Shalom, Simple Shalom.  Trusting God ought to be plain and simple.  Why do I struggle with it so?
For further thought:
What hinders your trust in God, keeping it from being plain and simple?
What does dread say about who the focus is on?