Today is Maundy Thursday. For those in Chicagoland, I invite you to join me at my home church, Christ Church Highland Park, for a special Maundy Thursday service entitled Christ, Our Passover. I will be presenting an Old Testament view of the Passover during the course of this communion service.
***
Psalm 133:1 A song of ascents. Of David. How good and pleasant it is when brothers live together in unity! 2 It is like precious oil poured on the head, running down on the beard, running down on Aaron's beard, down upon the collar of his robes. 3 It is as if the dew of Hermon were falling on Mount Zion. For there the LORD bestows his blessing, even life forevermore.
God's Desired Dwelling Place is among His people.  It's a place of unity and life forevermore.   This fourteenth Song of Ascents brings us nearly to the top of our pilgrimage of praise, Up to Jerusalem!   Looking out over the horizon, the psalmist reflects upon what it means to be God's people and writes three lines of poetic beauty.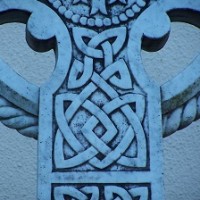 Our psalmist writes that it is good and pleasant–just like precious oil–when brothers live in unity.  It's delightful, an eternal blessing and an expression of what true life is all about.  Unity is hard to come by in this world and these days, the "brotherhood of man" seems dysfunctional at best.
Why is that?  True life can only happen because God has given us The Gift of Unity.  Do you ever think of unity as a gift?
Jesus did.  He prayed for this gift for us.  In John 17:20-24, we read Jesus' prayer.  "My prayer is not for them alone. I pray also for those who will believe in me through their message, that all of them may be one, Father, just as you are in me and I am in you. May they also be in us so that the world may believe that you have sent me. I have given them the glory that you gave me, that they may be one as we are one: I in them and you in me. May they be brought to complete unity to let the world know that you sent me and have loved them even as you have loved me. Father, I want those you have given me to be with me where I am, and to see my glory, the glory you have given me because you loved me before the creation of the world."
Our psalmist poetically describes The Gift of Unity as God's heavenly blessing, even life forevermore.  Think about how, like Aaron's anointing, this unity is holy and divinely inspired:  God models unity within Himself.  He is One God; yet Triune as Father, Son, and Holy Spirit!
Therefore, Jesus spoke of The Gift of Unity as evidence that Jesus was sent from the Father; proof that the Father loves us; and is the greatest witness to the world that Jesus Christ came to give His life as a ransom for many.   The Gift of Unity means that we can experience the relational joy of God's internal oneness.  By being one people–a community bound together by faith and in the love of Christ, we can enjoy true life forevermore as God's gracious gift.
For further thought: 
What seeks to divide you from your brothers and sisters?
Are there any things that churches do, resulting in division between brothers and sisters?
How can we overcome such divisions and acheive the kind of unity that Jesus desires?