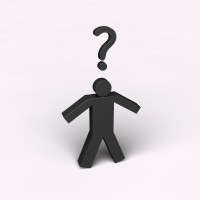 Have you ever wondered if God was calling you to do something or if you just imagined it?
It happens to me a lot.
* * *
In fact, the stranger the thing is that God wants me to do, the more I have a tendency to put it off and/or debate myself over it. 
Was that little voice God or me?
I have been known to ask God for an indication that He's behind it because if it's just me, I don't want to do it. 
But if it's God, well then that's a different situation entirely. 
Obedience to God is required. 
Obedience to myself is typically foolhardy.
The angel spelled out for Mary what would happen, but notice that Mary didn't ask God for a sign or any proof at all.  Why would God include this piece of evidence?
"Even Elizabeth your relative is going to have a child in her old age, and she who was said to be barren is in her sixth month" (Luke 1:36).
I wonder if God gave her a little proof that her faith was not unfounded because it would be easy to doubt the whole thing after the angel left.  This evidence God provided was perfect!
By reminding her of the miracle of Isaac's birth to Abraham and Sarah (who was barren), by giving Mary a corollary living example of the present miracle in Elizabeth's life, God anchored Mary's hope in the past covenant promises and directs her hope in the direction of God's faithfulness to do what He says.
For further meditation:
By faith Abraham, even though he was past age– and Sarah herself was barren– was enabled to become a father because he considered him faithful who had made the promise. And so from this one man, and he as good as dead, came descendants as numerous as the stars in the sky and as countless as the sand on the seashore  (Hebrews 11:11-12, NIV)
Is there anything in your life right now that could use an anchor of hope?