"Choosing their own way rather than God's way, trusting in human glory rather than in God, the nation has plunged itself into darkness." Some of you might think that is a strange way to start a series of Advent devotionals called Timeless, especially Timeless Hope! (Come on, put the election behind you! Grrrr….)
But wait, those words were written by theologian John N. Oswalt in his commentary on the prophetic book of Isaiah. Isaiah is talking about Israel specifically in this passage: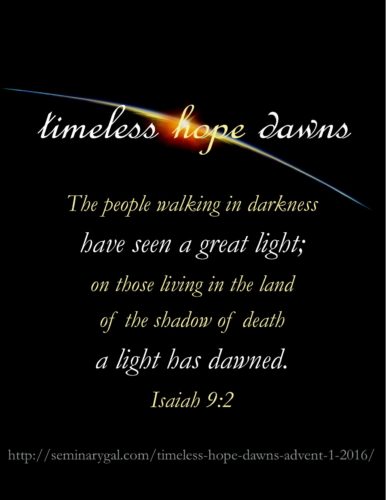 Isaiah 9:1 Nevertheless, there will be no more gloom for those who were in distress. In the past he humbled the land of Zebulun and the land of Naphtali, but in the future he will honor Galilee of the Gentiles, by the way of the sea, along the Jordan– 2 The people walking in darkness have seen a great light; on those living in the land of the shadow of death a light has dawned. 3 You have enlarged the nation and increased their joy; they rejoice before you as people rejoice at the harvest, as men rejoice when dividing the plunder. 4 For as in the day of Midian's defeat, you have shattered the yoke that burdens them, the bar across their shoulders, the rod of their oppressor. 5 Every warrior's boot used in battle and every garment rolled in blood will be destined for burning, will be fuel for the fire. 6 For to us a child is born, to us a son is given, and the government will be on his shoulders. And he will be called Wonderful Counselor, Mighty God, Everlasting Father, Prince of Peace. 7 Of the increase of his government and peace there will be no end. He will reign on David's throne and over his kingdom, establishing and upholding it with justice and righteousness from that time on and forever. The zeal of the LORD Almighty will accomplish this
This prophetic hope, made musically popular by Handel's Messiah, is about the coming of Immanuel (meaning "God with us"). The curtains open with people in gloom and distress but then hope enters! It's a timeless message of hope: they've seen a great light. Oswalt says the nations are "in confusion and darkness, the prey of the very nations they trust in. But that is not where God intends to leave them. In the very areas where the Assyrian conquests began, there God promises that the light will dawn. The people of Israel have done nothing to deserve this; it is nothing but God's grace."
Reflect today on the very nature of Timeless Hope and why dawn is such a fitting image.
How does "God with us" offer "dual significance" as Oswalt calls it?
Do you agree that we will all encounter God's presence one way or another, either as distress or hope? How might that change the way you go about your day, looking to encounter God?
In what way does Jesus' birth present a Timeless Hope?
===
Join me for Advent 2016 Devotionals called Timeless: the Message of Christmas for All Ages beginning November 27, 2106. Timeless hope, encouragement, grace, peace, and love will be ours as we look into the Word, see the face of our Lord Jesus, and experience restoration in His presence. His goodness and His Gospel are truly Timeless.
Advent began November 27, 2016. If you're already signed up on my Home Page sidebar to receive posts, you'll get the Advent devotionals automatically. If you haven't signed up, today is a great day to do so. Advent and Lenten devotionals remain among my most popular offerings. You don't want to miss this great way to prepare your heart for the true meaning of Christmas!