What would Ruth be without Naomi? That's how many people view the story. The real question is, "What would Naomi be without Ruth?" Mara. Bitter. (Ruth 1:20). Kind of a jerk, actually. Blaming God, shipping her loved ones back as rejected returns to the Moabite store, whining, playing the victim card, and then as the quintessential pessimist, seeing her future as "Life is hard. Then you die." It takes significant time for her to see the glorious tiny virtue of loyalty exemplified in Ruth.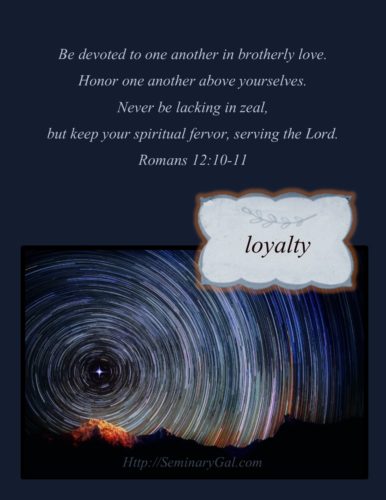 We're looking at the slide of friendship under the theological microscope and turning the magnification up to 100x. Loyalty. Why didn't we see it before, among those Tiny Virtues for Exemplary Christian Living?
Maybe it's because Loyalty is a stationary virtue best seen when everything else moves.  It's a tiny virtue for a changing world.  It's kind of like the North Star to guide us well.
Have you ever wondered why the North Star (Polaris) never moves?
It actually does, but only a fraction. We use it for guidance because its alignment is so close to the line of Earth's axis projected into space. Therefore it seems to be the bright star that never changes. All the other stars appear to move greatly by comparison.
In the story of Ruth and Naomi, it is Ruth who refuses to move from her position of loyal love in order to be a help, to guide, to be a friend, a daughter even, to Naomi. Who I might add doesn't deserve her at that time.
Who can forget Ruth's famous oath of loyalty?
Ruth 1:16 But Ruth replied, "Don't urge me to leave you or to turn back from you. Where you go I will go, and where you stay I will stay. Your people will be my people and your God my God. 17 Where you die I will die, and there I will be buried. May the LORD deal with me, be it ever so severely, if anything but death separates you and me."
Yet as the story unfolds, Ruth's loyalty is seen by her future husband and kinsman redeemer Boaz.  It is Ruth's exemplary loyalty that provides the vastly needed change of heart and rise of hope in Naomi. The Book of Ruth is a mere 4 chapters and a great story. It's well worth the read for those who like to see the reward for loyalty, a tiny virtue for changing a bitter world.
Be devoted to one another in brotherly love. Honor one another above yourselves. Never be lacking in zeal, but keep your spiritual fervor, serving the Lord. (Romans 12:10-11)
Ponder today: Loyalty
Bible character of the day: Ruth