When John Lennon wrote the song " Imagine " I wonder if he had any idea that the picture of a world with no heaven, no hell, nothing to kill or die for, and no religion too would have far more in common with a body on life support "living for today" comatose…than with utopia as a brotherhood of man. Don't get me wrong, I actually like the song and find it rather peaceful. But there's no getting around that if all we have is humanity and our days on earth, then removing humanity's boundaries along with passions for self or philanthropy, and inherent desires has but one result: suddenly you have meaninglessness on a worldwide scale. Nothingness. Nothing really matters. Nothing greater than oneself to live for. That's not a world as one, a world at peace. It's a collective living without purpose or meaning.
Dust to dust with just dust in between. Imagine that. Hardly hopeful.
Far beyond Lennon's Imagine, here's the heaven Christians hope for: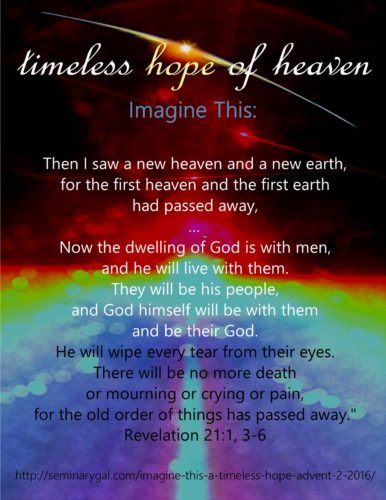 Revelation 21:1 Then I saw a new heaven and a new earth, for the first heaven and the first earth had passed away, and there was no longer any sea. 2 I saw the Holy City, the new Jerusalem, coming down out of heaven from God, prepared as a bride beautifully dressed for her husband. 3 And I heard a loud voice from the throne saying, "Now the dwelling of God is with men, and he will live with them. They will be his people, and God himself will be with them and be their God. 4 He will wipe every tear from their eyes. There will be no more death or mourning or crying or pain, for the old order of things has passed away." 5 He who was seated on the throne said, "I am making everything new!" Then he said, "Write this down, for these words are trustworthy and true." 6 He said to me: "It is done. I am the Alpha and the Omega, the Beginning and the End. To him who is thirsty I will give to drink without cost from the spring of the water of life. 7 He who overcomes will inherit all this, and I will be his God and he will be my son.
Reflect on what had to happen for heaven to exist as a timeless real hope for humanity.
Identify the beautiful aspects of heaven (above) and contrast that vision from Revelation 21 with John Lennon's dream of perfection:
Imagine there's no heaven
It's easy if you try
No hell below us
Above us only sky
Imagine all the people living for today
Imagine there's no countries
It isn't hard to do
Nothing to kill or die for
And no religion too
Imagine all the people living life in peace
You may say I'm a dreamer
But I'm not the only one
I hope some day you'll join us
And the world will be as one
Imagine no possessions
I wonder if you can
No need for greed or hunger
A brotherhood of man
Imagine all the people sharing all the world
You may say I'm a dreamer
But I'm not the only one
I hope some day you'll join us
And the world will be as one
===
Join me for Advent 2016 Devotionals called Timeless: the Message of Christmas for All Ages beginning November 27, 2106. Timeless hope, encouragement, grace, peace, and love will be ours as we look into the Word, see the face of our Lord Jesus, and experience restoration in His presence. His goodness and His Gospel are truly Timeless.
Advent began November 27, 2016. If you're already signed up on my Home Page sidebar to receive posts, you'll get the Advent devotionals automatically. If you haven't signed up, today is a great day to do so. Advent and Lenten devotionals remain among my most popular offerings. You don't want to miss this great way to prepare your heart for the true meaning of Christmas!